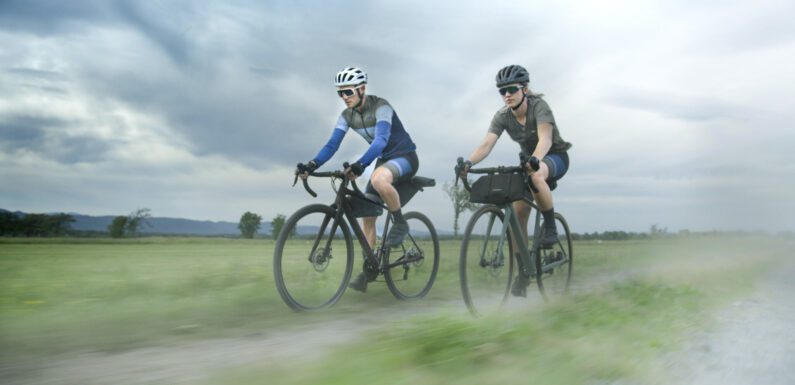 With the gravel sector continuing to expand and defined on-road and off-road divide merging, Louis Garneau Group embraces the spirit of the gravel adventure with expansion of its gravel specific Groad Collection for 2021/2022. Designed with in-depth high-end racing knowledge and innovative materials, the Groad Collection is a true balance of performance and comfort.
The latest collection includes a specific seasonal apparel range including men's and women's breathable and protective jerseys and bibs as well as weatherproof gravel specific bags. Wherever the gravel adventures take you, Louis Garneau's high performance, gravel-specific clothing blends innovative design with cutting-edge materials to keep you riding in style and comfort. The versatility collection gives riders the ultimate flexibility as the cooler days set in the Northern Hemisphere.
Groad is the modern-day word for gravel roads, yet embodies a spirit of nostalgic rebellion from traditional ways. The collection is founded on those principles. The Groad Collection first launched in 2019 in collaboration with renown event Rasputitsa. The collection has continued to evolve, with the summer 2021/2022 line-up featuring the industry's most gravel specific garments developed with a panel of international gravel enthusiasts.
"Gravel is not a new thing at Garneau. For the past 7 years, we have been a pioneer addicted to the freedom and adventure that gravel offers. From the launch of our first gravel bike in Canada in 2016 (Garibaldi) to our collaboration with Rasputitsa to this new summer collection, we've worked with passionate gravel enthusiasts and are a mainstay on the gravel scene in North America and now look to share that in the international market. The versatility and functionality of our styles make our collection perfect for gravel and also adapt to your needs on the road so you don't need two different wardrobes." — Louis Garneau, Founder and President
Clutch Jersey Men + Women (available August 2021)
The gravel-specific jersey that can also do the tarmac thing.
The Clutch pushes breathability to the maximum so that you
stay dry on low speed dirt roads, even in the peak of summer.
Ready for a full day off-road? Bring all you need with 5 pockets
— 3 traditional pockets at the back and two extra swivelling
ones on the sides — plus a comfortable silicon gripper to hold
any extra luggage in place on a bumpy ride. $129.99 CAD
Grity T-Shirt Men + Women (available August 2021)
Since Gravel is its own beast, a beautiful blend of road and dirt,
it is also the crossroads of clothing conventions and total
freestyle. Camaraderie and performance are in balance in
gravel, wearing a tech t-shirt while riding can be functional,
comfortable and trendy. The Grity T-Shirt features a high
wicking lightweight fabric, designed to stay dry on the steepest
backroads and is equipped with reflective accents for safety
and visibility when that extra loop at dusk calls. $69.99 CAD
Corridge Bib (available August 2021)
The Corridge Bib has a unique 5.1 Pulse chamois that limits
vibrations coming from your favorite dirt track. The Corridge
Bib has storage for any longer adventure with 2 side pockets
and 1 back pocket. The bib is made of innovative compressive
lycra, lycra so comfortable and smooth some testers called it
the ultimate cycling velvet. $224.99 CAD
Groad Bags (available August 2021)
Five new models of bags are also available, including options
for saddle, top tube and handlebar. The gravel bags feature
sealed seams and 100% waterproof and offer all the storage
you need for those long adventures. Starting at $44.99 CAD
Custom Groad (available August 2021)
The complete Groad Collection is available custom, including fall and winter lines. In the spirit of gravel, the Groad Collection incorporates fun, with elements like an integrated bottle opener, and yet serious enough to attack the fiercest races or enjoy the ride you have on your calendar. Custom Groad Collection
"The GROAD Collection is innovative and functional. I had a chance to use some of the new Gravel Royale pieces when I participated in a gravel race recently, and I really liked the fit and comfort, and the extra pockets were quite handy for extra snacks! The TRGR collection looks great and I believe it will be really popular with our riders."- Aaron McConnell, President of TransRockies Race Series
ABOUT LOUIS GARNEAU® GROUP
Founded in 1983, the Louis Garneau Sports Group, headquartered in Saint-Augustin-de-Desmaures, Quebec, has been operating a distribution center in Derby, Vermont since 1987, a production factory in Mexico for 10 years, a distribution center in Toulouse, France, and a supply office in China. Since 2018, the Garneau Group includes the Canadian trilogy of 3 brands: Garneau, Sugoi and Sombrio. Their products, intended for cyclists, triathletes, as well as several disciplines of winter sports such as snowshoeing, are sold in more than 40 countries. The Louis Garneau Sports Group is actively involved in social and charitable causes, including International Don't Text and Drive Day, Little Brothers Foundation and other actions promoting cycling within communities around the world. www.louisgarneau.com