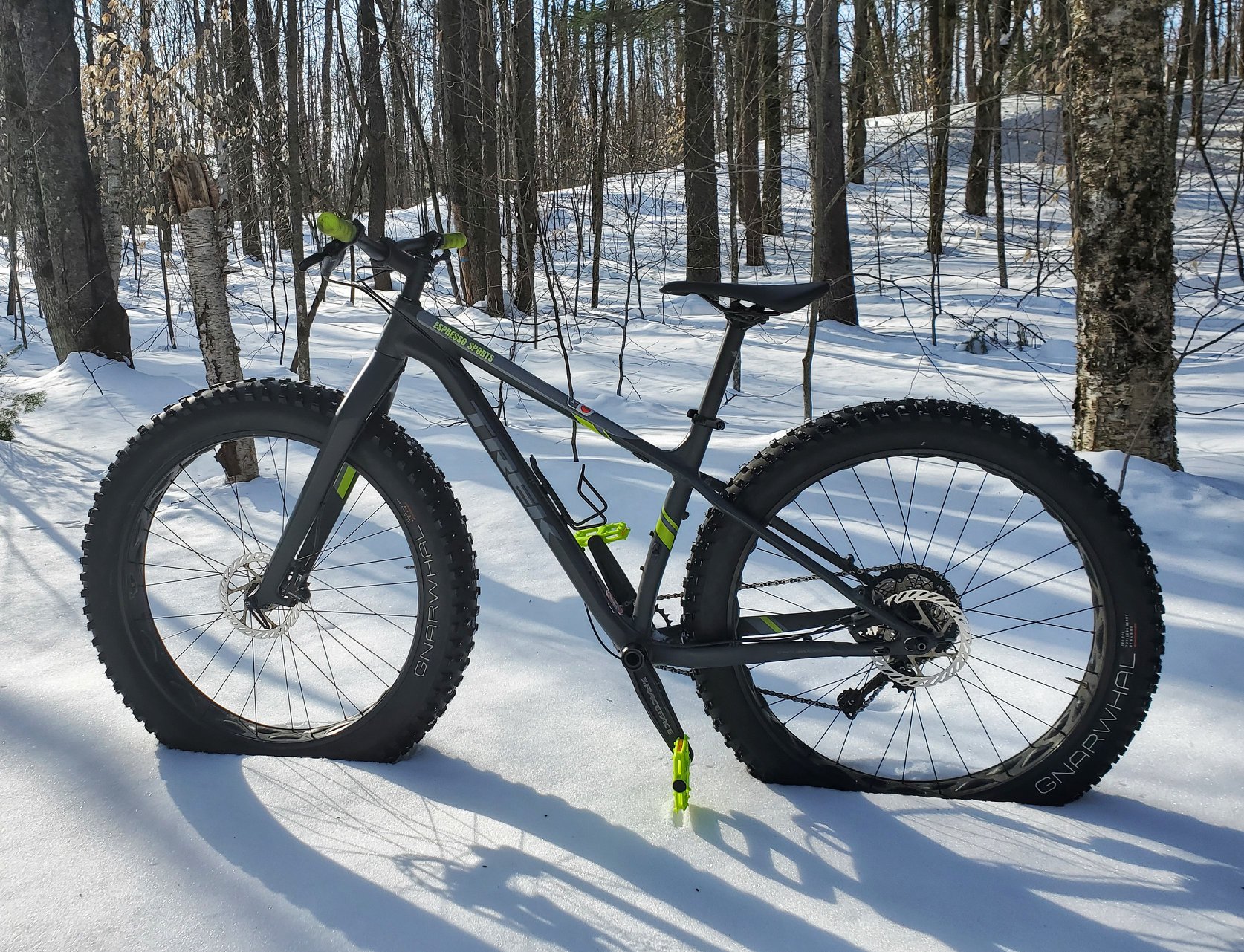 When people ask what type of fat bike to buy on the different groups, the Trek Bicycle Farley 5 is the bike that came back most often. However, people often rely on the bike they ride without necessarily trying many.
I have to admit this review is one of the ones I wanted to do the most this winter. I wanted to have a clear heart on this fat bike that in the eyes of many is "special".
After a chat with the people at Trek, I headed to Espresso Sports to take possession of the 'beast'. The first try was unsuccessful given the fall snow and poor conditions of the slopes. We put the whole thing back last weekend.
I had a day to do the review so I started a marathon of the different center near my house. My first stop was at the Parc De La Coulée where the conditions and the weather was just sublime! My second stop was at Parc du Domaine Vert to test agility and speed. My third stop was on the Parc Linéaire le P'tit Train du Nord for… fun simply!
From my first pedal stroke, I noticed the lightness of the bike. Made of aluminum with a carbon fork, the Farley has excellent speed. In addition, at the position level, it has a particularly interesting geometry. She looks a lot like Salsa Cycles Mukluk, I was near my handlebar which brought optimal bike control. At the tyre level, the Bontrager Gnarwhal 27.5 X3. 8 back gives a feeling of riding a mountain bike in winter. However, in conditions of less strong slopes, I do not think it would be as efficient. I'd be curious to try a bigger tire in this case. For the front, we have a width of 4.5 which gives a great stability of control.
On the climb, the 10 speed Shimano-MTB Deore is doing the job well. It changes on request and without delay. However, having been used to more speeds, I would have taken a 11 or 12 speeds 1 or 2 times.
At the brake level we have SRAM MTB Level that faithful to their habits, have impeccable modulation. I didn't have to press strongly to just slow down or "break" the momentum when necessary.
Jonathan, you seem to find the perfect bike? Don't think so! One of the negative points is the saddle that was the worst I've ever tried in winter! She's hard and really not comfortable. But we can change a saddle changes pretty easily.
Do we have a good value for $ 2100? Absolutely! However, I suggest planning the purchase of an extra rear tire for less suitable conditions for a smaller tire.
I'm giving a score of 8/10 for the Trek Farley 5.