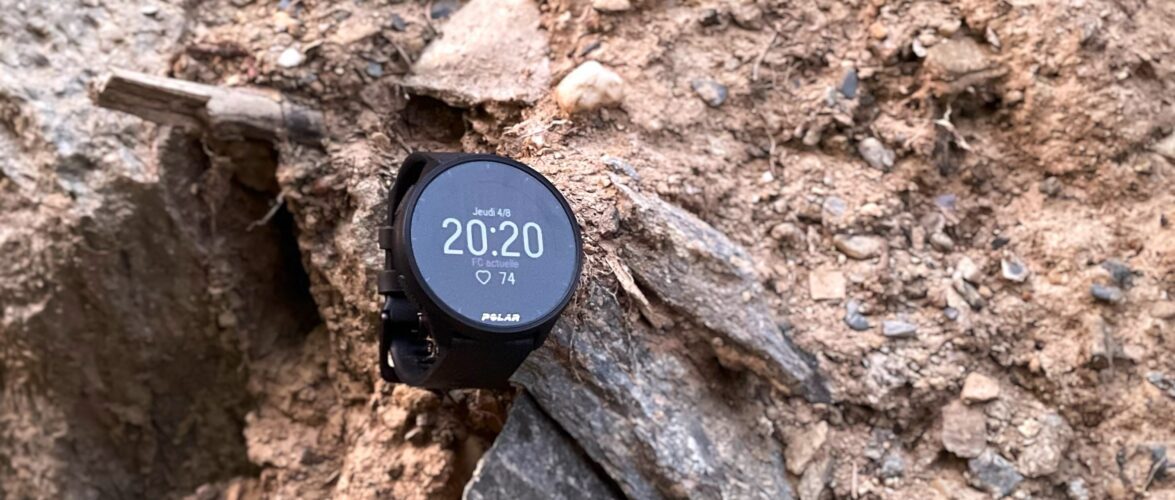 Have you ever heard of Polar? Well, their story goes back as far as 1977 in a cross-country ski track in northern Finland. In fact, Polar is the company that developed the world's first wireless heart rate (HR) monitor. They have been established in Kempele, Finland for over forty years now and count millions of active users. Recently, they released a new watch designed specifically for running, the Polar Pacer (also available in a Pro version with an integrated barometer). Polar described this watch as "a GPS running watch that gives the modern runner all the essentials, plus the specialized training tools they need." Here is what I thought of it:
Construction
For this new watch, Polar relies on a minimalist design with all the essentials every runner needs and a long-life battery. The watch is ultra-thin, as light as 40g, and the wristband is flexible for maximum comfort. The touch screen was also left out for ergonomic super-grip buttons. You just push and go! This could be a downside for some, but personally I prefer to use the buttons on a device as small as a watch, especially since the touch screen never works well when your hands are full of sweat or when it's very cold in winter. The watch offers a 1.2-inch display size with a 240 × 240 resolution protected with their new Gorilla Glass 3.0, a 1.1mm glass screen that's thinner but as durable as before. Despite the minimalist design, reading your watch will not be a problem. The display is bright and optimized for any condition. In fact, the screen can be read even in direct sunlight, and you always have the possibility to adjust the screen brightness manually. The watch can also be used during the worst of storms or for swimming with a water resistance of 50 meters (WR50). Finally, the Polar Pacer is one size fits all and comes with an extra shorter wristband.
Technologies
As the watch is very recent, it is equipped with a high-speed modern processor that guarantees fast and lag-free navigation. The power of the watch comes from a 273 mAh Li-Pol fast charging battery. In concrete terms, this gives you up to 35h of training time with full GPS and HR tracking, up to 100h of training time in power-save modes, and up to 1032h (43 days) in watch mode. The full charging time is under 2 hours with the Polar Charge 2.0 magnetically snaps cable. Finally, the up-to-date 5.1 Bluetooth allows for rapid data transfer after your run. The watch also comes with two essentials for any runner, an advanced optical HR tracking at the wrist and an assisted geo location supporting GPS, GLONASS, Galileo, and QZSS satellite systems.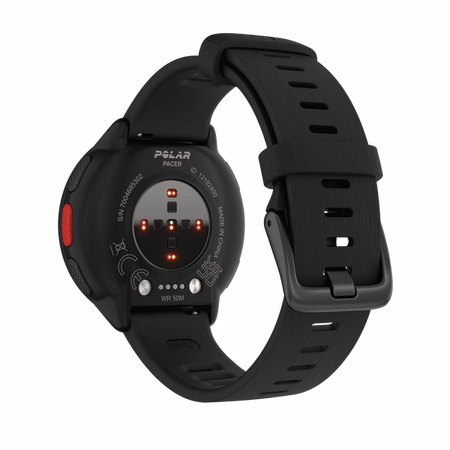 Features
With the Polar Pacer, you will have all the basics and essential features you need while running including time, distance, pace, lap timer, and interval timer. After synchronizing your watch with the Polar Flow app or with other compatible apps (Strava, Relive, Komoot, Nike Running Club, Adidas Running, and many more), you will have access to all the data you need, such as time, distance, pace, max speed, elevation gain, calories, HR, etc. By the way, my HR tracking was always right on point; the Polar Pacer never lost track of my HR, and it never recorded weird/unexplainable heart spike. While the watch was created for runner, you can still choose between over 130 profiles of activity, and you can customize the views for sport-specific tracking and metrics. Those who like to have a 24/7 activity tracking will also be pleased. You can set a daily activity objective, and the watch will automatically count the moves you make and the steps you take. You will also have a tracking of your sleep with the Sleep Plus Stages™ feature that automatically tracks the amount and quality of your sleep and shows how long you spent in each sleep stage. The Polar Pacer will also tell you when it's time to stop. The Training Load Pro™ feature is there to know if you're training too much, too little or just right. For those who like to use their watch as an extension for their cellphone, you can allow push notifications for calls, messages, or emails, and you can control your music with your watch.
In the end, Polar delivers what was promised: a simple watch with all the essentials that allows for a multitude of sports and a 24/7 tracking. Moreover, I find the Polar Flow app to be very well thought out for those who want to have not only a summary of their activity but also a summary of their day. The classic Polar M400 was the first running watch I had several years ago, and I was frustrated for a long time by the very low battery capacity and the USB charging cable that was very unstable. With the Polar Pacer, we are far away from that. I was particularly surprised by the battery duration, for such a small and light watch. Additionally, compared to my usual watch, the HR tracking was much more stable. With all the brands available today, choosing a running watch is not easy, and you must take your time, but be sure to check out the Polar Pacer, it could really be your next favorite watch. If you are considering using the watch in the mountains, it might be worthwhile to opt for the Pacer Pro, which comes with a built-in barometer.
You can have more information about Polar here: