The best chain lube for your bike depends on the conditions you're riding in. Any friction or resistance within the chain can have an impact on how efficiently your power is used. In order to limit friction between the chain and the rest of the drivetrain a chain lube needs to be applied. The better the lube, the more efficient you will be on your bike.
Choosing a bike lube is tricky as there are so many out there that all appear to offer the same qualities. I had the chance to try out Bananaslip Tungsten All Weather Lube from Ottalaus. I wanted to use it on some basic and dry road riding, then really put it to the test on some bikepacking trips which would encounter all road and weather types.
According to their website, Bananaslip lube is a high-tech blend of waxes, which provide all-weather durability, silky-smooth running, no noise, and extensive endurance. The website also says it's resistant to water and dirt, and apparently, it's completely biodegradable, so better for the environment.
Though drivetrains should always be cleaned thoroughly before introducing a new lube this is particularly true of waxes. I had cleaned mine recently making sure there was no other residue present.
A good 30-second shake of the bottle is all you need before dabbing a little into each link of your chain. It was less runny than I was expecting, but I always advise having a clean rag handy to prevent spatter, especially when you turn the cranks a few revolutions to complete penetration.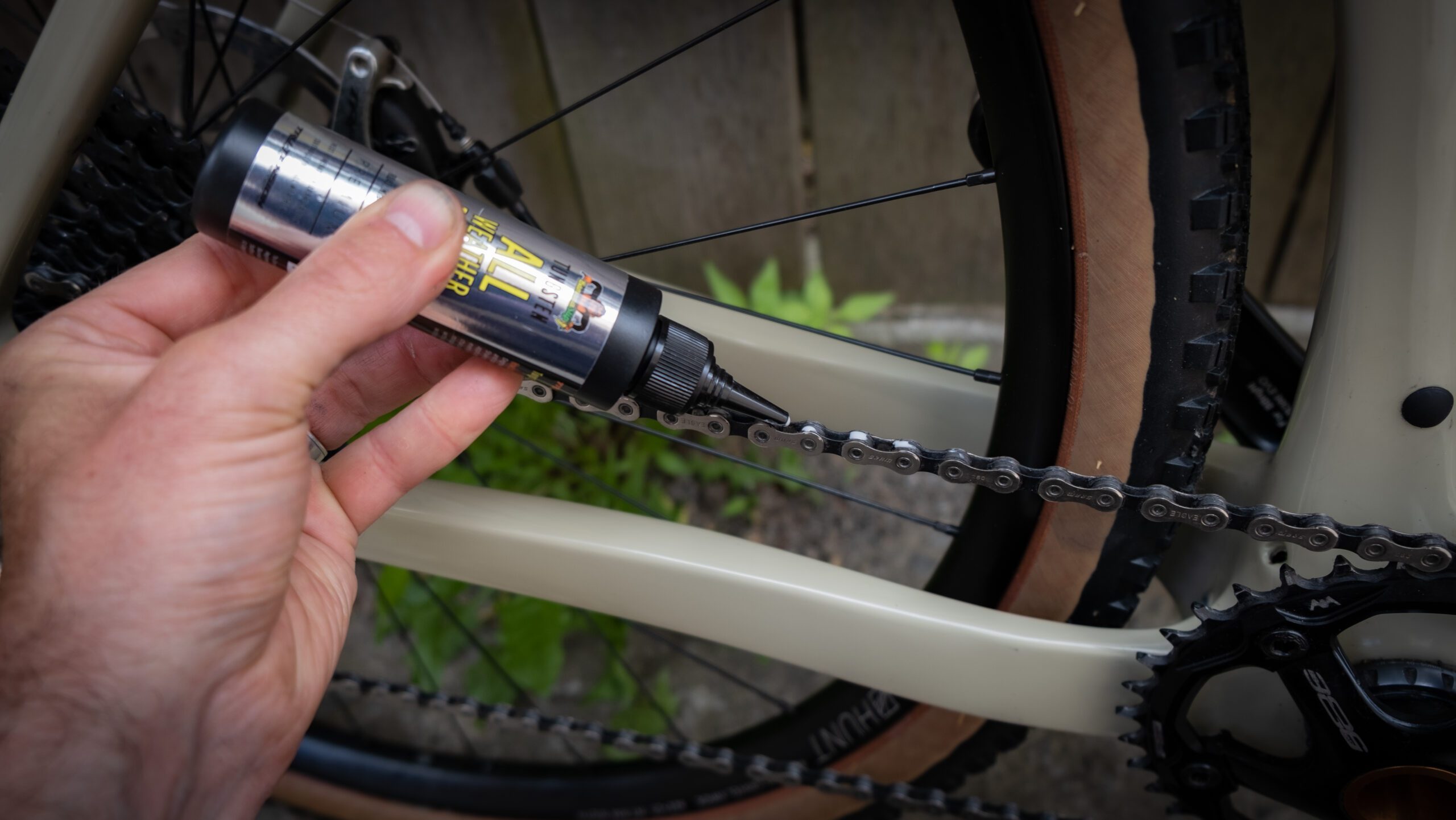 Most traditional wax lubes require several hours to cure properly, so I was surprised to read Tru-Tension's claim that Bananaslip cures in a matter of minutes, but it's true. Leave for 5-10 minutes and it will turn to a clear, tacky coating. I gave it a wipe to take off any excess and rode off right away. But again, I did notice the weird banana smell, which I don't love.
The first part of the test period was predominantly hot and dry, with a little rain here and there, and I rode around 200 km with a single application. Some wax lubes can be sensitive to temperature and become fluid and quite messy in hot weather, but the Tru-Tension seemed to be unaffected by hot weather: no melting sticky mess and the chain seemed clean and didn't attract much materials like sand at all plus didn't need to be re-applied for atleast 350km after.
I then decided to give it a bigger test. I was going on a longer bikepacking trip so I put on another light application and brought the bottle along just in case. I took that chain through hell and back with multiple rain storms and dusty gravel roads and trails. After 500km the chain was still running smooth and was relatively clean. It didn't even get rinsed off after all the water I went through. Pretty incredible. Note that I didn't have a chance to ride it in colder weather, which would be interesting to see how it holds up in those conditions.
Overall, there's a lot to like in this lube if you're looking for a clean-running and long-lasting wax lube. You need less of it compared with other wax blends, it cures in minutes not hours, and proves durable in bad/wet weather and all road types. The only gripe I have is that banana smell!
You can have more information about Tru-tension here: