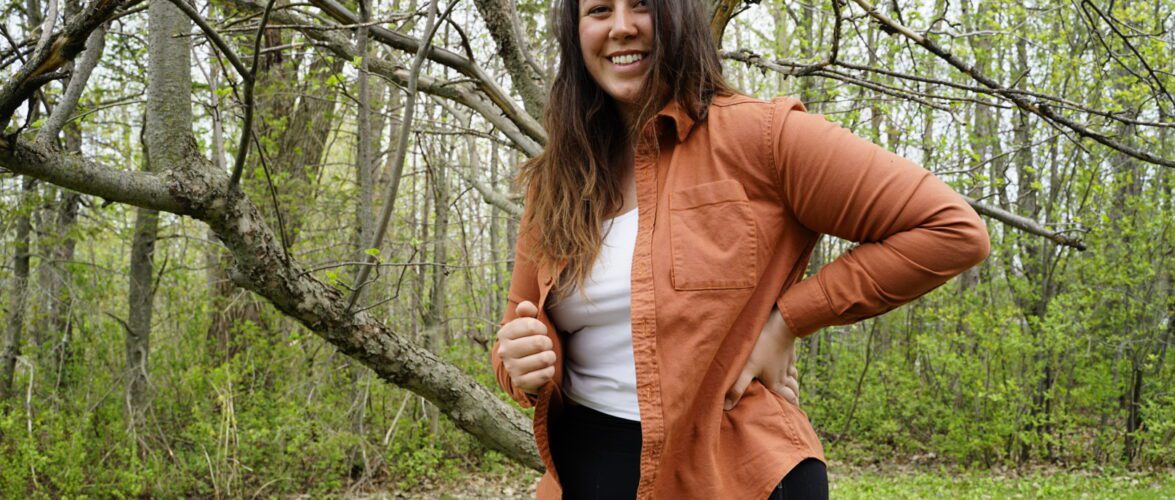 I was offered the chance to try on a garment from a company that I was not familiar with before; Topo Design. I received the Dirt Shirt Women, from their recent sustainably-built Dirt Collection. Being a fan of all kinds of shirts, I can guarantee you that this one stands out from my others!
The shirt
As soon as I received it, I was surprised by the texture as well as the design quality of this shirt. The garment from the Dirt Collection has a dyeing process resulting in 95% less water consumption and made them super soft. Made from organic cotton, the fabric of this shirt is quite stretchy, which makes it very comfortable but also resistant.
The Dirt Shirt Women has a classic look. It is a straight fit and there is only one pocket on the left side of the chest. It comes in 6 different colors, mine is in the shades of Brick. The sizes of this clothing collection range from small to large only. With my size, I usually wear large and X-large. I thought the shirt might be a little tight for me; surprisingly not, the large size fits me perfectly. On the other hand, it is impossible for me to get the pants of this same collection. Unfortunately, the size chart of the large pants does not suit my body type.
In conclusion
Even if I don't have the pants to match with it, this shirt pairs incredibly well with the rest of my wardrobe. It's a go-to piece that I can use in many different occasions. Whether it is on a road trip, at the crag when I go climbing, for taking a beer after a nice mountain bike ride or simply around a camp fire with my friends. It goes perfectly with sportswear, a more casual look or even with a nice sun dress. I simply love it and I highly recommend this shirt from Topo Design!
You can have more information about Topo designs here: