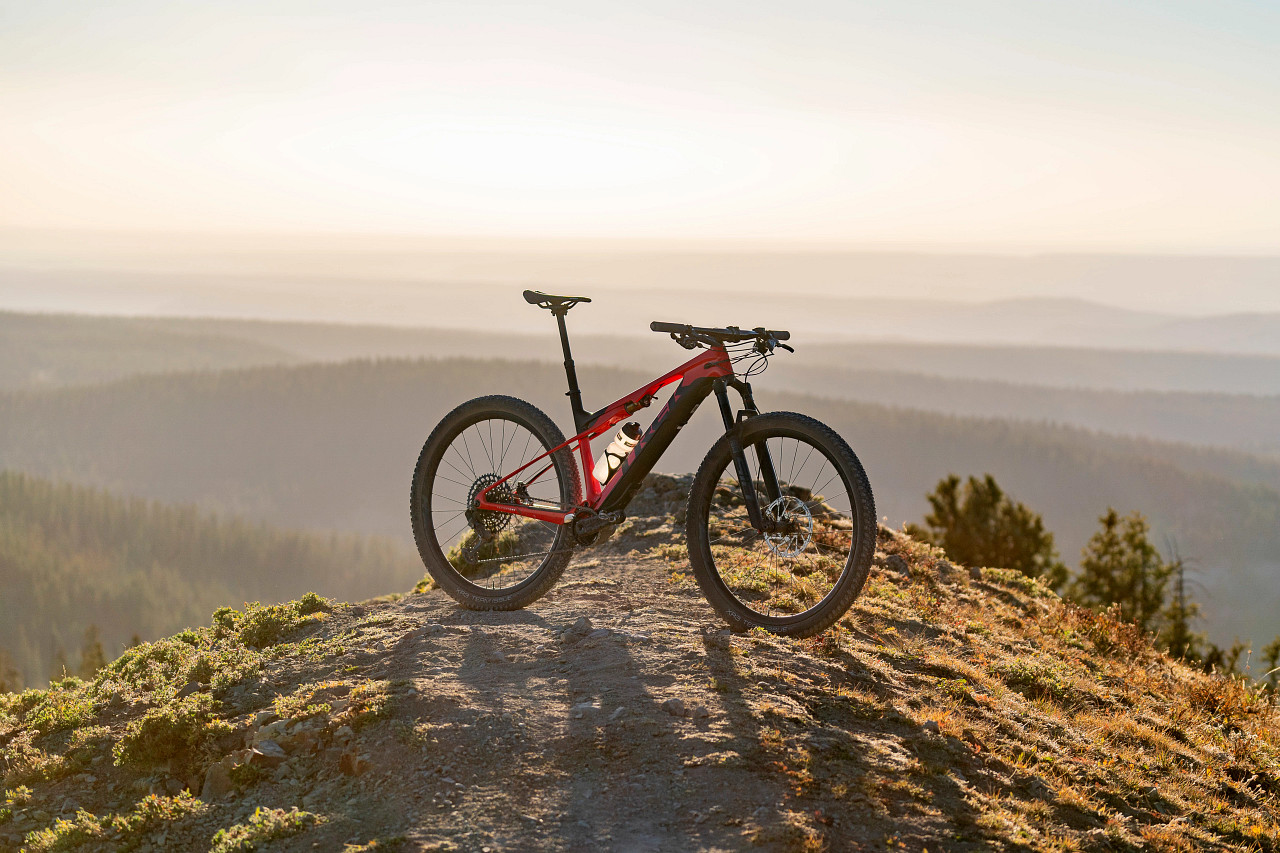 Trek drops the all-new E-Caliber family of lightweight XC electric
mountain bikes
[Waterloo, WI] –Trek announced an all-new family of electric mountain bikes today, bolstering the brand's e-MTB line-up with a lightweight, Fazua-powered XC ride called E-Caliber.
The E-Caliber is based on the design of Trek's popular Supercaliber XC racing bike and is equipped with Trek's exclusive IsoStrut shock. It has an appetite for distance, a love of XC speed and just the right suspension and power to turn up endurance on cross-country trails, so riders can stay stronger and cover more distance.
Whereas electric mountain bikes are increasingly designed for bigger terrain and made to power up climbs so riders can charge down them, the E-Caliber offers a lightweight ride that enhances the true XC experience.
Lightweight XC performance
This is Trek's lightest full-suspension electric mountain bike ever, with thetop-end model weighing in at just 15 kg/33 lb. It closes the gap between a user and stronger riders and erases the limits riders put on themselves, taking the hardship factor out of climbs, distance and tricky terrain without taking away the accomplishment that comes with riding them.
Every E-Caliber in the line-up is equipped with an ultra-smart internal Fazua Evation drive system, which offers 55 Nm of torque, a range up to 43 miles/70 km and three modes of assist activated by Fazua's all-new bX remote.
The lightweight drive system weighs just 4.6 kg/10 lb and assists up to 20 mph/25 kph. When riders go beyond the max assist speed, they won't feel any drag or resistance –just the smooth speed of an ultra-fast XC bike.
Smart software for the trail
The E-Caliber's Fazua Evation system runs on the all-new BLACK PEPPER software, which delivers power at a wider range of cadence (from 50–120 rpm) and is more responsive from the start. It gives immediate assistance when you start to pedal, without any lurching.
Additionally, this intelligent assist software adapts to your pedalling style and is completely customisable via Fazua's Toolbox Software 2.0, which allows you to dial in your user and power settings in an easy-to-use interface.
Through Fazua's Rider app, E-Caliber users have full access to a wide range of sensor-and system-generated data for tracking trip performance. The E-Caliber is also Bluetooth-compatible for easy data transmission to a wide range of devices.
Electric XC spec
The E-Caliber's geometry is dialled for an electric XC bike. Compared to the Supercaliber, it's 1.5° slacker with a 67.5° head tube angle and a longer reach for maintaining extra stability while moving at a consistently higher speed. E-Caliber models are also equipped with a bigger 120 mm fork.
Just like the Supercaliber, the E-Caliber is equipped with Trek's exclusive IsoStrut shock –a structural suspension design that pairs 60 mm of damped tunable travel with unique pivotless seat stays that move with the trail to keep you smooth and fast.
One bike, two ways to love it
The E-Caliber can easily be turned into an outstanding analogue XC bike by removing the Fazua motor and installing the included down tube cover. This creates a drag-free riding experience with the performance and handling of an XC race bike. Removing the Fazua system and installing the included cover sheds 2.9 kg/6.4 lb. For the top-end E-Caliber 9.9 XX1 AXS, that drops the weight down to 12 kg/26.6 lb.
The all-new E-Caliber is available in five models, ranging in price from USD $6,499 MSRP to USD $12,999 MSRP, and can be found now through Trek's wide network of retail partners and online at trekbikes.com in select markets.
Available E-Caliber models
-E-Caliber 9.9 XX1 AXSE
-E-Caliber 9.9 XTRE
-E-Caliber 9.8 XTE
-E-Caliber 9.8 GXE
-E-Caliber 9.6