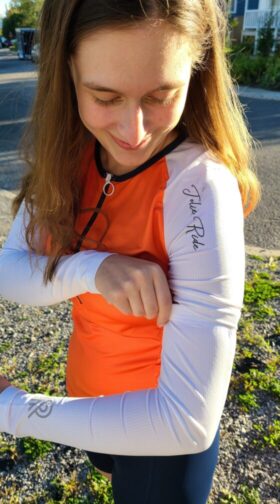 My first real bicycle thighs and life jerseys and oh! That the bar is high!*
| My Experience BEFORE JolieRide Co.. |
I was reluctant to switch to wearing bicycle shorts and jerseys.Indeed, I've been testing shorts and jerseys in the last few months and years, but still resolved not to buy any. For me, this kind of purchase needs to be an investment, but there was always something disappointing me with what I was trying for; whether it was comfort, style, fit or prices too high for my Student or young entrepreneur budget, nothing satisfied me.Highlights from JolieRide Co.. according to me & according to my taste
| The ′′ must ′′ for me |
A short that becomes transparent or becomes another color when you wear it since it stretched, it's A BIG NO for me.HAPPYLY JolieRide Co. PASSED THE TEST.This is the first aspect I've checked and the two shorts I've worn in the last few weeks and they have always been opaque.
| My favorite piece! |
The Blue Flower Bolero is the winner!Oh he got gossiped when I went for a bike ride with @vitessebonheur. My favorite track above all and Oh useful! I won't get enough of it anymore.Easy to put on, easy to remove; when mother nature doesn't know what she wants! At the start of the ride, to warm up, a little chilly wind or the fall cold, I'm looking for every reason to wear my bolero.Also, let's talk about style, the bolero fit with my cami and t-shirt. So I can wear it no matter what kit I choose.Plus, it's easy to put in a back pouch. Very nice alternative to the cuffs. In my case, I even keep the cuffs for the moments when my bolero is in the wash.
| Quality & style – Jerseys & shorts |
The shirts and shorts I chose make me feel young and radiant. The quality of the fabrics, even after several washes, has been superb. I even got bike chain oil on my Orange and White ′′ Home Run ′′ shirt and managed to get this off with some rubbing with a soft soap.Orange and White Home Run T-Shirt – This shirt gives me energy. The mornings I'm half awake to go to work on a bike I feel like a rocket. I never thought the orange color would give me this much energy.Cami Performance Blueflowers – I love my cami because I have a soft spot for these types of designs.| The flattering and comfortable fit – Shorts |Personally, I find that the height of the thighs at the stomach is just in the right place on the hips to showcase our curves in the right way.Also, when I wear the shorts, I feel there is support without feeling suffocated. So they are stretchable while also providing support.My favorite, Ideal Marine shorts – It's a half elastic shorts. Thus the tape around my thigh feels like it doesn't exist. Indeed, the support is just enough to hold on, while not squeezing to cause little rolls.Lilac shorts – Comfortable, but it doesn't beat the perfect shorts. Love the blue strip that brings a little more color to my kit.
| The flattering and comfortable fit – Jersey |
I'm not someone who likes to wear tight tops because all my insecurities come out. I was hesitating between small and medium, and this is small I got. And this is the first time I can say I'm comfortable wearing a molding shirt. What convinced me was the shorts fit with the jersey that combined together make me feel great.Now my next order from JolieRide Co. I'm going to try Medium; I'm too curious to see the difference. Then, I agree with the friend advice offered on Jolie Ride's website: Choose the size that best fits your everyday clothes!
| Zipper storage & pouches – Jerseys |
The back pouches, they take stock! And zipper is perfect for our cards, key and money. Positioning the pouches on our back makes sure I forget I'm hanging out with personal effects. What I love even more is that I'm able to store my bolero in a pouch for windy or colder days.
| Cuffs included |
Indeed, when you buy a T-shirt, cuffs are included! I call it ′′ being predictive ′′ and ′′ taking care of your customers ". Indeed, you don't want to haul a jacket all the time just for a little chilly wind coming and leaving. Thus, the cuffs, tidy in our back pouches, arrive at the rescue anytime.
| The ′′ vibe ′′ of the company |
The history and values of the owner Marie-Amélie, the spinning sessions offered live and the energy generated by the company image give me motivation to all my bike outings and make me feel beautiful and efficient.
| Affordable prices for quality products |
Cami Performance Blue Flowers – $ 88
https://www.jolieride.com/…/cami-performance-fleurs…/
Blue Flower Bolero – $ 60
https://www.jolieride.com/produit/bolero-fleur-bleue/
Ideal Marine shorts – $ 88
https://www.jolieride.com/produit/cuissard-ideal-marine/
Lilac shorts 18 cm – $ 88
https://www.jolieride.com/produit/cuissard-lilas-18-cm/
Orange and White Home Run T-Shirt – $ 110
https://www.jolieride.com/…/maillot-velo-orange-et-blanc/
| weak point – finding the right sport top (support) |
What I found difficult is finding the right sport top to put under the swimsuits because I always felt like my chest was too featured.
Thus, I have to try JolieRide Co. sports supports!
https://www.jolieride.com/…/accessoires/soutiens-de-sport/
* Note that I have tested these products in everyday life for maximum distances of 50 km.Emilie Pelletier from Tuque & bicycle expériences