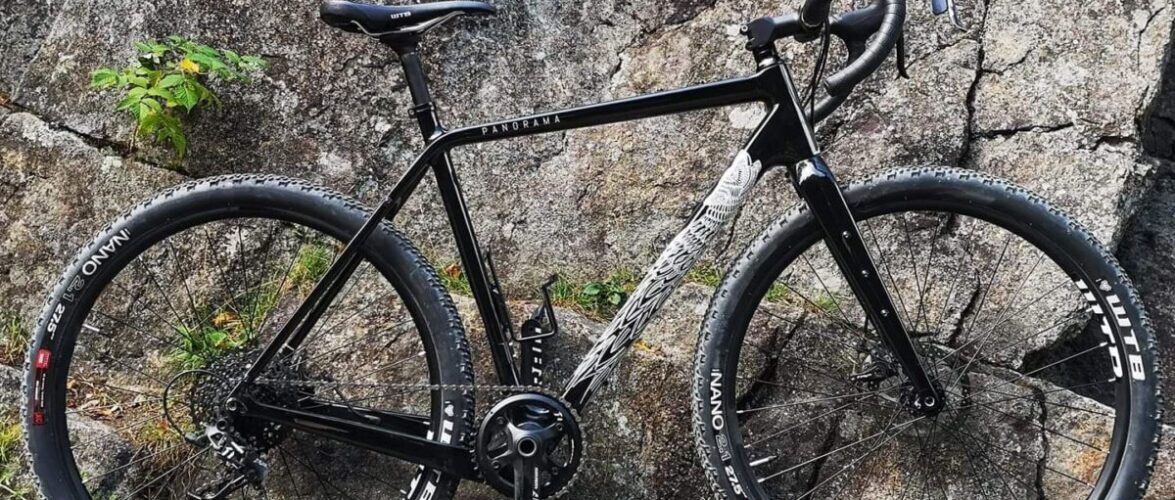 Since my review of the Panorama Cycles Fat bike , I have kept in touch with Simon and Eric. The pandemic to be more restricted in terms of bike availability, but the opportunity presented itself for the Katahdin trial and it was the beginning of a great adventure.
When we chat with the people at Panorama, quickly, we see that they do everything with passion and every meeting, it's over an hour of discussion and new projects.
As mentioned in my previous review, I'm relatively new to the gravel bike world and as Vélo Mag did a fantastic job of the adventure part, I was going to continue on the paths a bit busier.
The Katahdin is entirely composed of carbon fibre and for some, this can be a pitfall if we want to explore more damaged terrain. Since Panorama never cuts round corners, they used XANTU. LAYR ™, to make the Katahdin to test. The bike is very light and even with the WTB i23 wheels and 27.5 ′′ WTB Nano tires that have done an extraordinary job in traction, comfort and control of the bike. I have to admit that for the pneumatic part I wasn't convinced about the size until these were tested.
At the transmission level, we are talking about a single plateau at the front and a Sram Apex group that did the work in a nice way on all types of grounds.
Over a 2 week period I went 475 km and I must admit that the weight, geometry and tyre made riding this bike not a "chore " but a real pleasure. From the Seigneurie des plaines through the Parc Linéaire le P'tit Train du Nord to Tremblant and the Chanteclerc for a little ride in ' ' mtb ' mode this bike is 100 % matching what I'm looking for in a gravel bike.