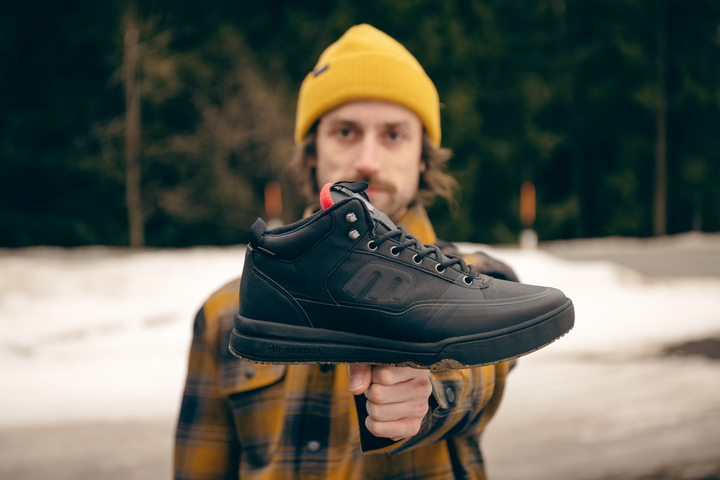 If you read my articles for a while now, you will notice that Etnies is one of my favorite shoe brand. Therefore, when they proposed me to evaluate their new jones MTW boots I could not say no.
About Etnies
The company was launched in 1986 and following the end of his professional skateboarding career, current owner, Pierre André Sénizergues, commenced design work at etnies shortly after the company's formation. Etnies was an emerging European brand at the time that Sénizergues joined the company and he was responsible for designing the "Senix", "Lo-Cut", "Low-Top Rap", "Intercity" and "Scam" shoe models. Sénizergues subsequently introduced the brand to the US and proceeded to build Sole Technology, with the addition of the Emerica, éS (on hiatus between 2012 and 2014, but back in production), and ThirtyTwo (snowboarding brand created in 1995) brands.
The boot
I received the Black and red version and I must admit that the look of this boot is absolutely incredible. The height is in my opinion perfect and the hot melted beltline and treated upper for durability and water protection threaded upper is a great feature.
I wish they would have used some Thinsulate for insulation. They use thermal heat retention aluminum stroble board which in my opinion is great for areas with moderate winters. I typically wear merino wool socks for my everyday boots and never experienced an issue for my feet to be cold so in my case it is ok. This booth is lightweight and you don't feel like you are dragging a cannonball which in my opinion is something important.
The more you know

The Etnies Jones MTW is designed and tested by Jeremy Jones.
The BLOOM foam midsole is the world's first plant-based foam formulated with algae biomass
20% recycled rubber outsole compound
Recycled PU/Textile
Vegan
In conclusion
If you are on the lookout for a great comfortable and waterproof boot for everyday use, the Jones MTW is a great score. At a price of 180.00$ cad you can't go wrong.
You can have more information about Etnies here:
Pictures courtesy of Etnies