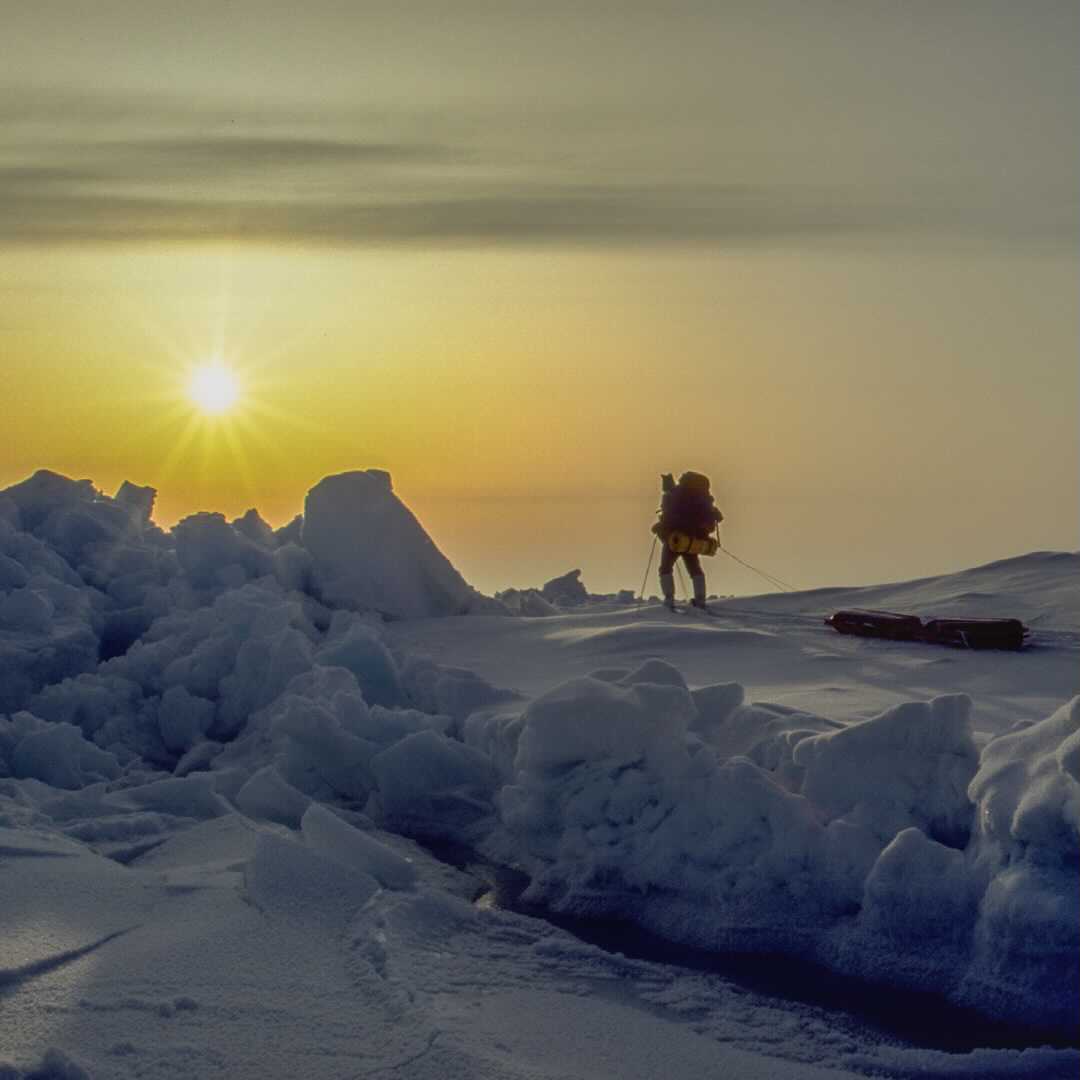 You can see it taking off, slowly. You can see it here and there in the colors, materials, shelves and customers curious to discover the season's new products. Yes, good news: the original Chlorophylle logo is back in force. Together, if you wish, let's retrace its history to get to know it better and (re)fall in love with it.
A piece of history
At first glance, one might think of a skyline and a sunset, inspiring, colorful and full of zenitude. However, it takes a discussion with one of Chlorophylle's pioneers, Gilles Couet, to go beyond this image and fully understand the original work. "The extended green line represents the color of chlorophylle and the yellow crescent represents the sunlight that is involved in the chlorophylle process. It is a whole that represents photosynthesis, and therefore life," he says between two expeditions.
In addition to Gilles Couet at the time, there was a whole team around this logo, including Alain Dumas, Gilles Lévesque, Régis Pageau, Simon Coutu, Marc Fournier, Hélène Philion and Pierre Beaudoin. Pierre Beaudoin, who developed two collections annually for the company for 23 years, remembers the moment of deciding on the final name of the company: "We were all gathered and it was during a brainstorming that the name Chlorophylle was retained."
According to co-founder Gilles Couet, this logo made it possible to become the smallest outdoor company in the world at the time to have an international influence. Wasn't it destined for a great history? In fact, for 30 years it remained unchanged or almost unchanged except for a change in typography or the skyline. Then, a few sketches later, it comes back in force.
Back for the 40th anniversary
When the team gathered to celebrate the company's 40th anniversary, it was clear that it was essential to return to the original logo. "We associate it with the company's success first of all, but also, it best represents the values of respect for the earth and the materials used in the design of the clothing," says Claudie Laroche, marketing director, who explains that it is not a sunset but rather a sunrise, to which we could attribute properties of energy and vitality that fit well with the outdoors.
For her and her teammates, the forces of nature led the founders to create their first collection in 1980. Chlorophylle, the brand, draws its roots from its rich heritage, the elements reflecting a performance apparel brand that was born of nature, that is of nature. The logo is inspired by this heritage and reflects the 2021-2022 collections in every way.
A comeback in force
On the eve of Chlorophylle's 40th anniversary, the return to the original Chlorophylle logo was welcomed by the team behind the clothing designs. The designers feel inspired by this logo, which is nicknamed the rising sun. For them, there was no doubt that they wanted to work with this emblem that represents well the values. It is a strong symbol that they are proud to put on all their creations.
This symbolic move also allows Chlorophylle to regain its letters of nobility, and the entire family salutes this comeback loud and clear. " I love the original logo," enthuses Katie Bouchard, production manager at Chlorophylle since 1997. " It's colorful, visually unique and recognizable at a glance. "
The same goes for Nina Tremblay, web and print designer, who grew up with this logo that she affectionately wore on her clothes when she was young. "This logo is 40 years old and hasn't aged a bit! It adapts over time and can change colors. It is smart, versatile and inspiring. It still has a very strong meaning today and tells us a great story. It almost has a soul," she laughs.
"When we announced to our customers the return of our original logo, we received nothing but waves of satisfaction towards this move. For the more purist and those who have been wearing Chlorophylle since its creation, it's nothing but good memories that run through their minds. Between the nostalgia of their childhood and the excitement of their first outdoor adventures, it was this logo that accompanied them all these years. For the younger ones, they all remember their parents or grandparents who had or still have one or more mythical pieces of the brand and wish to wear this logo in their turn.
Thus, regardless of age, all applaud positively the return of the sunny logo. Moreover, one of the only elements that gather all outdoor enthusiasts, regardless of the activity or the season, is the appreciation of the sunrise on the horizon."

Maxime Desrosiers, supervisor and marketing coordinator
Slogans to discover
In support of this return to the original logo, you will discover our new series of slogans that reflect the brand's DNA.
Chlorophylle of nature : we are always inspired by nature, but we are mostly Chlorophylle of nature.
Of nature Active : we move actively, promote health and standing still is not an option.
Of Adventurous nature: we are always pushing the boundaries, a forest is just one more place to explore. We don't shy away from anything.
Ofnature Engaged : wearing a Chlorophylle garment is a social gesture first and foremost because the company is committed to sustainable development, both environmentally and socially.
Of Unifing nature : since its very beginnings, the brand has always been able to gather around it outdoor enthusiasts concerned with protecting nature in order to better enjoy it.
Of nature Durable : when you buy a Chlorophylle garment, it is for life. In addition to being resistant, our clothing is designed in line with our mission to respect biodiversity. We use materials with this in mind.