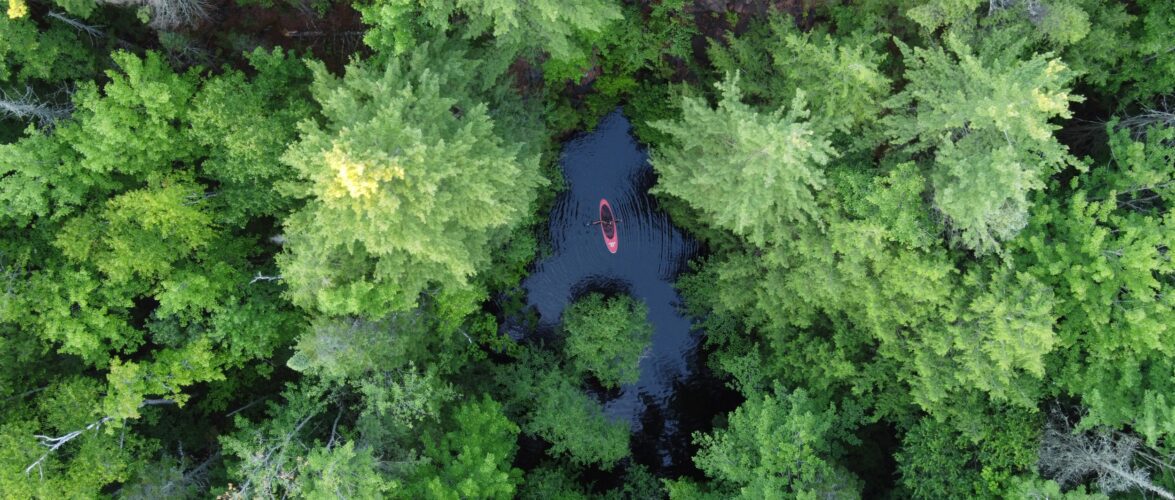 This summer I had the chance to use an inflatable stand up paddle from the ŌNATA brand. ŌNATA is a family owned and operated company, run by the son of the founder of GV snowshoes. ŌNATA means outdoor in the Huron language. Let's see if it lives up to its promise of exploring the great outdoors.
THE RIDE
I used the Mahalo 11 in big and small bodies of water. My board has been everywhere from the lake at my cottage, the beautiful lakes of the Canadian Rockies, and back down to Tobermory in the Bruce Peninsula.
What's great about these inflatable boards is they are easy to transport. They are easily deflated and can be packed up and loaded back up for your next trip. Whenever and wherever you need it, it's there for you! It takes 5 to 10 minutes to inflate. If you're not Hercules, I recommend starting with the double action and finish off with the simple action mode. Grab your PFD and head on out to discover new places.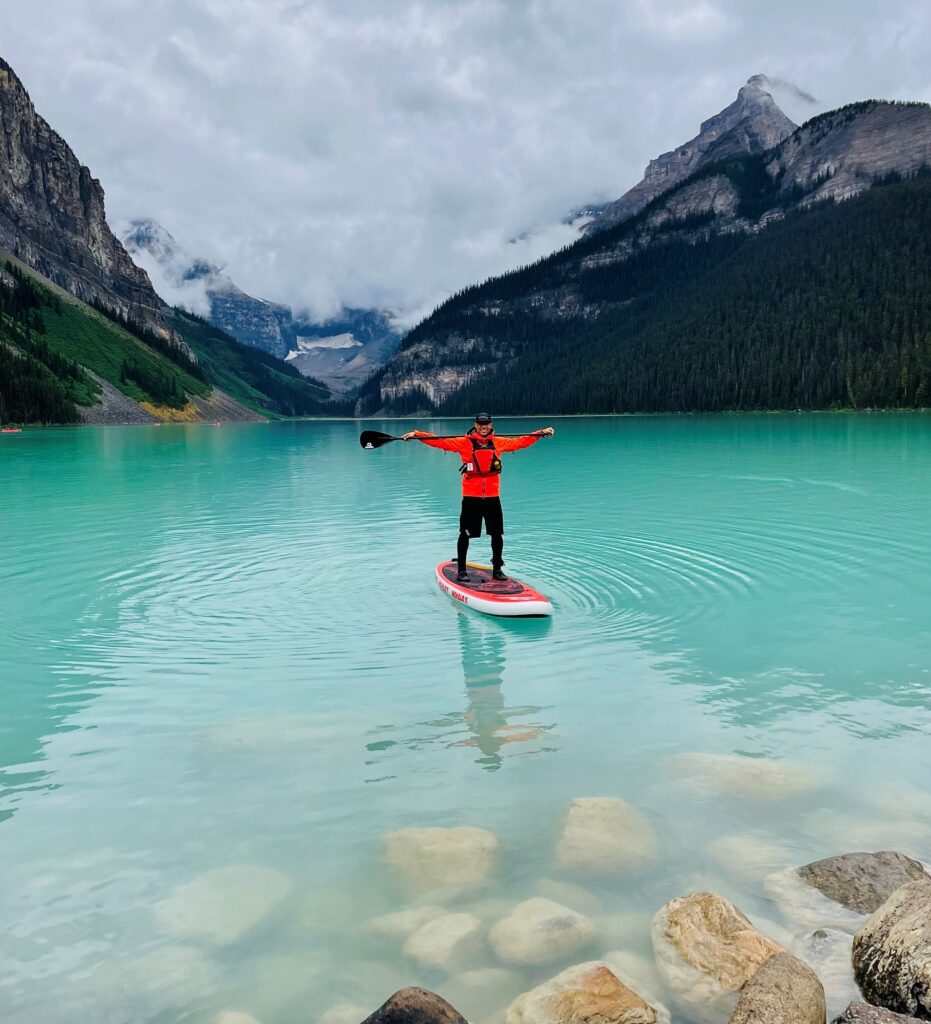 This paddle board tracks well and the stability allows you to think less about the paddle and spend more time enjoying the scenery around you. The designs on both the top and bottom of the board are inspirational and stand out from the traditional, boring graphics. I really dig this one!
The Onata Mahalo 11 has cleverly placed padding to provide comfort for your feet and knees.
The design includes 2 fixed fins and one 9 inch removable plastic fin. The fin designs make the board feel fast, but also allows you to pierce through small waves and have fun on a windy day.
The only noticeable problem with the board is that it does not come with a leash. When it comes to safety and security, I cannot stress enough that this accessory can help to save a life.
SPECIFICATIONS
-Mahalo 11 , board with nylon drop stitch 15CM+MULTI PVC LAYER + EVA3MM with 2 piece adjustable aluminum & plastic paddle
-Dimensions: 11'X33''X6''
-Maximum apacity: 319 LB
-Board weight: 26 LB
-Double action pump.
-Carry bag and repair kit included.
-Bungee cord on top and plenty of D rings.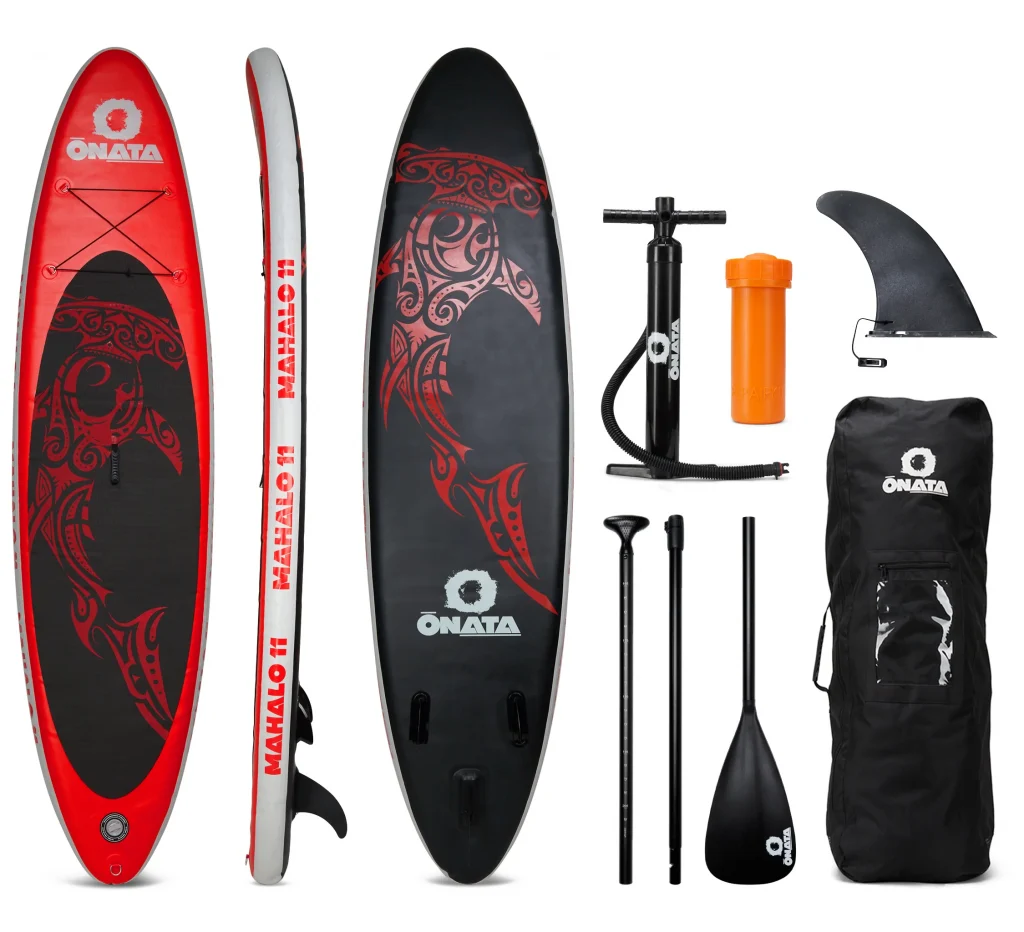 In conclusion
I would recommend the Onata Mahalo 11. Overall it's a great product for anyone to use, even the dog! I hope this encourages you to go out and find your ŌNATA.
Please visit the Transport Canada site for more safety information and always be sure to clean your board when trying out different locations and waterways.
You can have more information about Onata here: