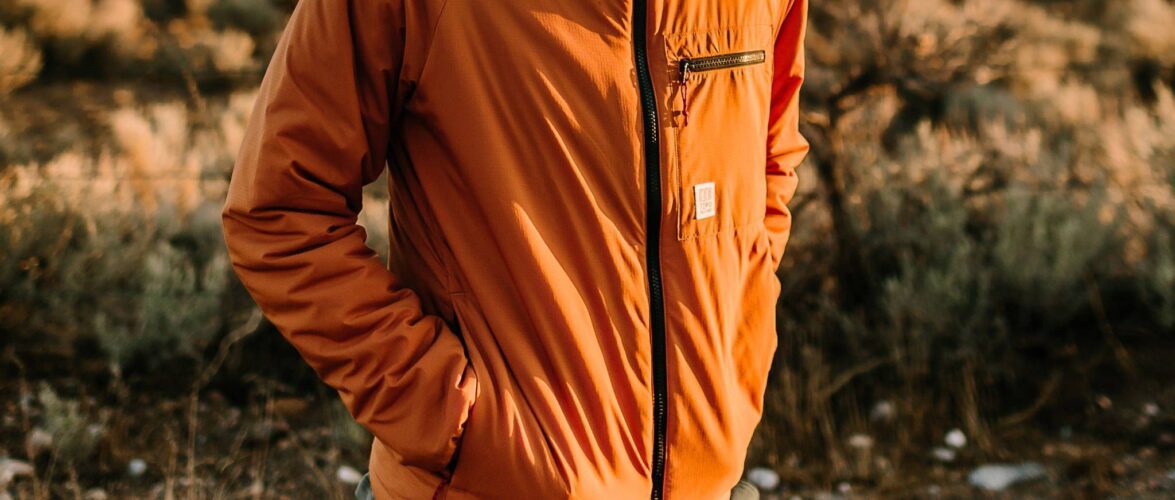 When we talk about jackets for fat biking, there is a multitude of choices available and I like to explore different avenues. For me, when the days are colder, I like to wear a base layer and mid layer with a lightweight insulated jacket.When Topo Designs asked me to try their Puffer Hoodie, I said yes right away.
I knew their reputation and their product intrigued me a lot.When I received the jacket, the first that I noticed is how light the jacket is.We often think that if a jacket is light, it is not well insulated. But, with the new insulation techniques, it is not the case anymore. In the case of the puffer hoodie, it is insulated with Primaloft which uses recycled material. Also, the jacket is packable which is a great feature.
As per the size chart, I wear x-large but I must admit that I would have been curious to try the large. I fit the fit a little bit too loose for sports but it was leaving me room to put my Camelbak under. I would have taken this jacket a little bit more adjusted.I really like the pocket on the front of the jacket that gives the possibility to put your cell phone and energy bars.
At my first outing, the temperature was at -5 degrees celsius and this jacket is really too warm if we put a base layer and a mid layer. I would have been maybe comfortable with a base layer only under it. I redid the same exercice at -12 degrees celsius, and it did the same thing.This week end with the wind chill we were at -22 degrees celsius and the Puffer hoodie performed extremely well with again a base and a mid layer only.
In conclusion, is the Puffer Hoodie being a good jacket for most of the winter days we have to practice fat biking? I don't think so. But when we have really cold and windy days, this jacket will sure perform. I don't say that this jacket is not good, it is not adapted for our sport. This jacket will certainly be on me for other types of adventures.