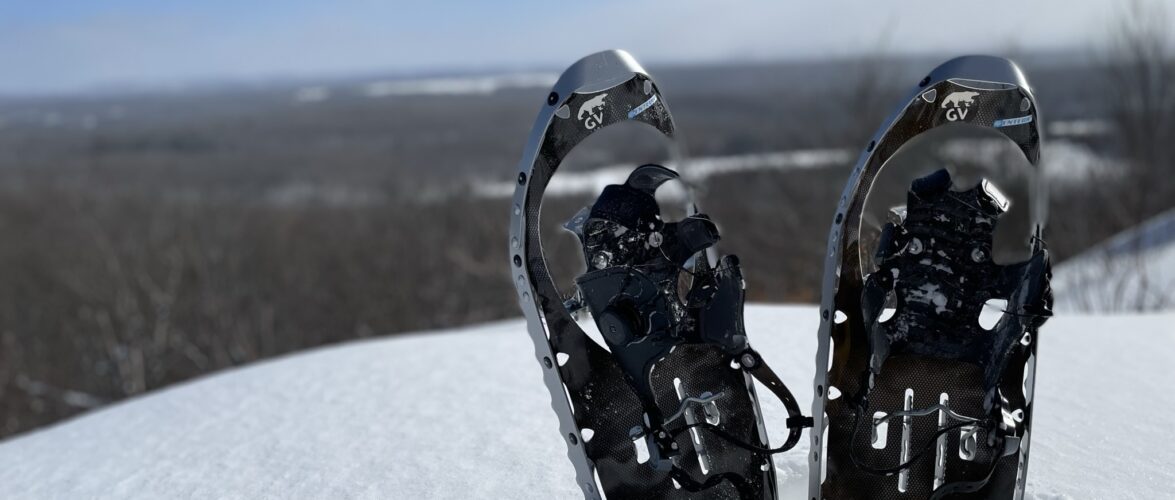 GV (Gros-Louis & Vincent) Snowshoes is situated in the Wendat Huron reserve in Quebec City. Their first activities date back to 1959 and all their products are proudly made in Quebec. Currently, GV Snowshoes can proudly claim to be "the only snowshoes company in the world to produce every type of snowshoe available on the market, from traditional wooden snowshoes to cutting-edge aluminum snowshoes". Their Mountain Extreme Spin snowshoes combine modern materials and technologies and are designed to satisfy adventure-seeking snowshoers and extreme-condition fans. I cumulated about 35 km and 1000 meters of ascent during winter to put them to test.
Big grip and easy ascent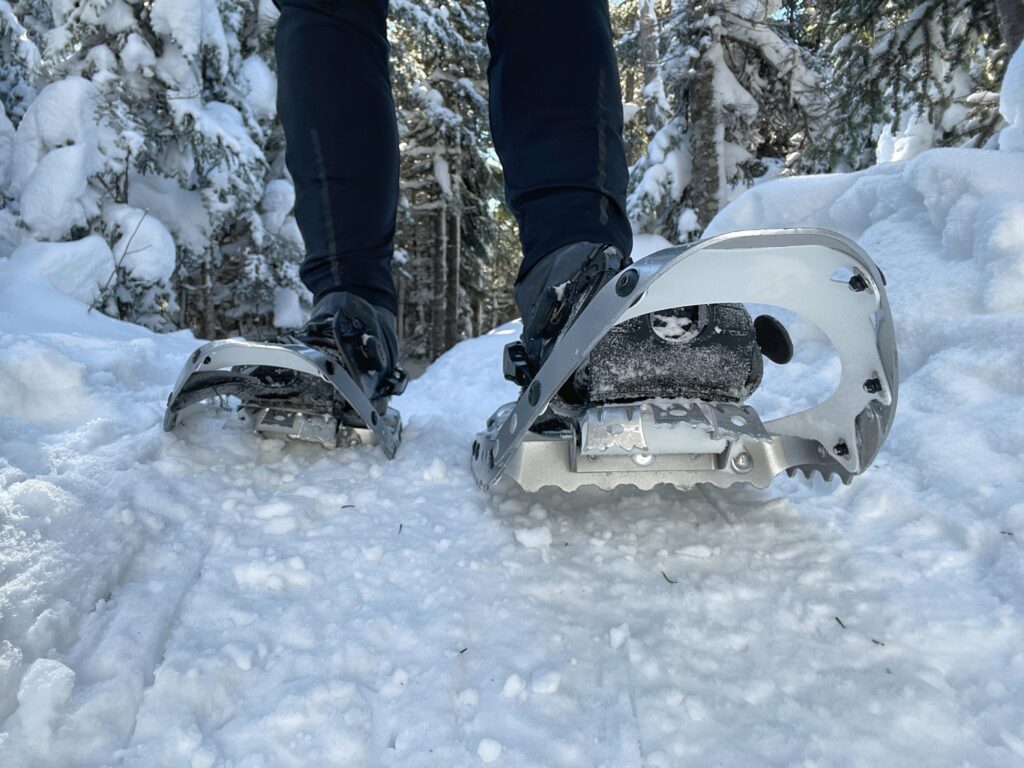 To face the hills and all the variations of terrain in the mountain (branches, roots, rocks, ice) it is truly important to have a very durable snowshoe with good traction while remaining lightweight. Extra grams on your feet (that you will have to lift thousands of times) can make a big difference at the end of the day! The Mountain Extreme spin proposes a sturdy lightweight aluminum frame with crampons on each side of the frame, on both stabilizing bars under the foot and, finally, directly under the forefoot. To put it simply, the grip is outstanding no matter what the conditions are. One of the common problems with crampons is that the snow can stick to it and build a big chunk under your foot. I didn't have that problem with the Mountain Extreme. Most mountain snowshoes are equipped with a heel raiser that makes the step ascents much easier on the calves. The one on the Mountain Extreme offer a good balance between too much and not enough rise (approximately 3″) and is really easy to pull on and off.
Comfort and fit
The Mountain Extreme spin snowshoes are available with a classical ratchet buckle system or with the spin bindings system by Northwave (the one I tried). This spin system uses Dyneema plus polyester laces, a fabric that is very resistant to abrasion, and offers a snug and comfortable fit around the foot. During my adventures, I never felt any discomfort or pressure spots. This system was also quick and easy to loosen or tighten, even with my mittens. Personally, I don't think I'll ever go back to a ratchet buckle system.
Flotation
It is always difficult to choose the right length for snowshoes. It depends on the user weight, a "relatively" stable factor, and the type of terrain, a factor that may vary greatly. On busy trails, the ground is usually compacted and small snowshoes or only crampons under your boots may be sufficient. However, on less traveled trails, it becomes necessary to have more flotation to avoid sinking down into the snow. The Mountain Extreme is available in two sizes (8×25 and 8×30). I tried the 830 version to have a good flotation even off trail, but I was not optimistic about walking on compacted trails with 30-inch snowshoes. I was finally really surprised how these snowshoes didn't feel big when walking. In fact, the frame geometry of the snowshoe is long but quite thin (only 8″ wide), which facilitates walking even in narrow mountain trails.
Their official size chart is as follows:

The best comparison I can make with the GV Mountain Extreme spin is the MSR Lightning Ascent, a model that is a dream for the most avid snowshoe enthusiasts. These snowshoes share many similarities but don't come with the same price. While the MSR Lightning Ascent is 430$ CAD, the GV Mountain Extreme Spin is half the price, 220$ CAD. To be honest, I was very surprised and rather proud to discover that a Quebec company was offering such quality snowshoes at such a reasonable price. I can't wait to put more miles on these snowshoes and go to the less traveled trails during winter.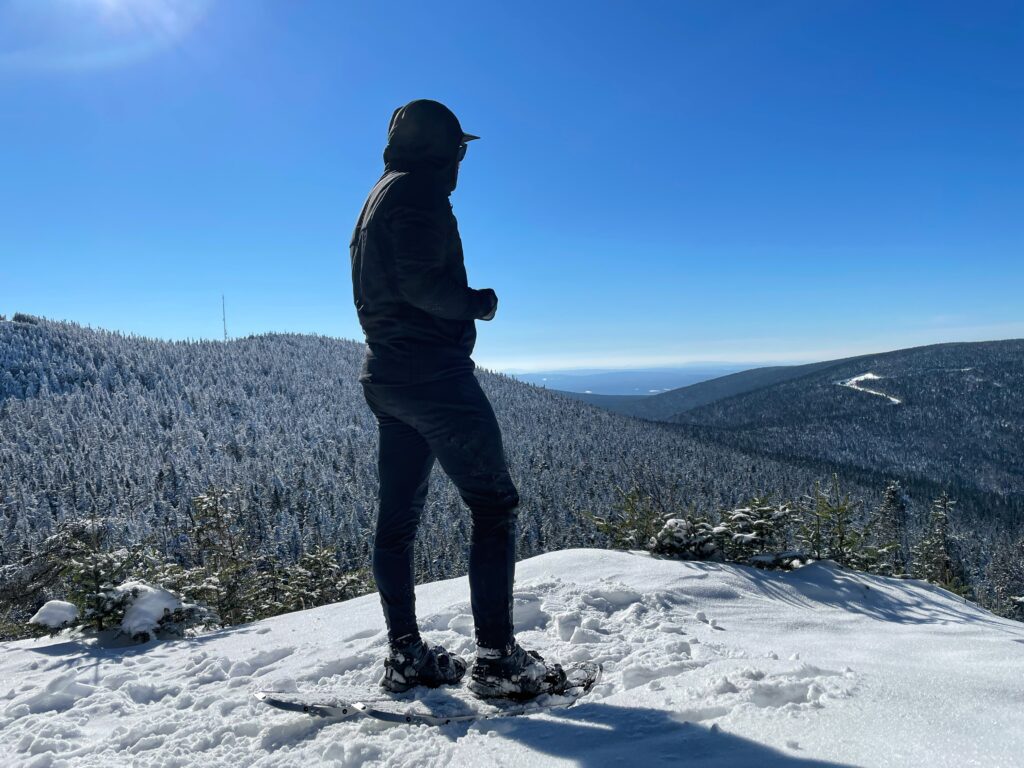 You can have more information about Gv snowshoes here: