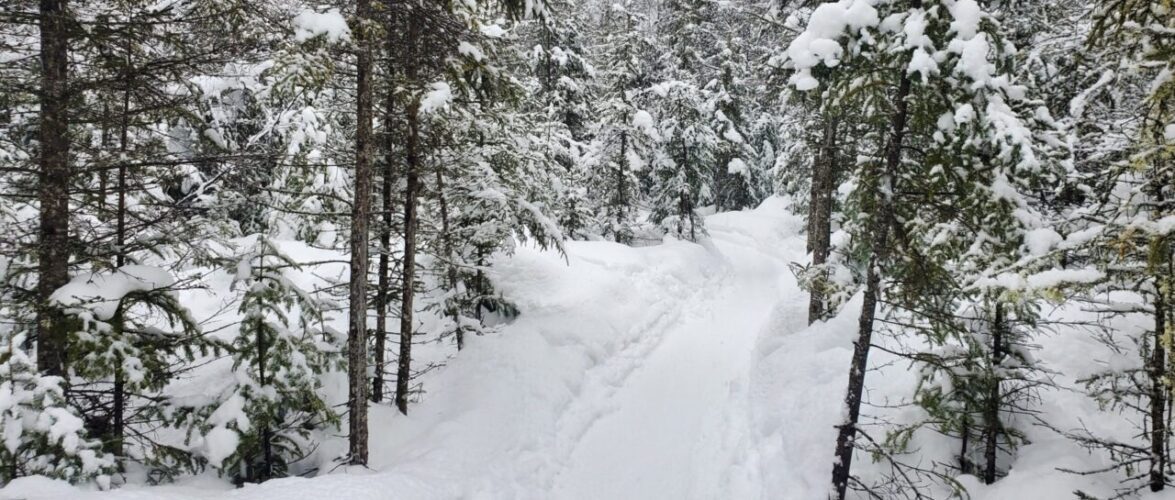 I wanted to go at Empire 47 during the winter since for many it is the fat biking kingdom in Quebec, Canada.
For the necessity of the article, I decided to approach it as a tourist that does not own a fat bike and needed accommodation too so I stayed at Manoir du Lac delage right across the street.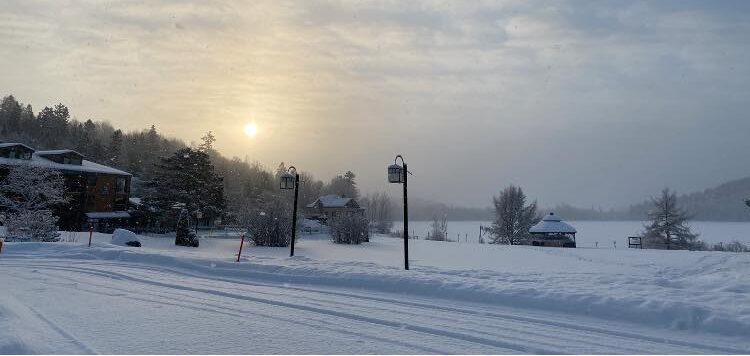 The Manoir has been opened since 1964 and has 97 rooms. Over the years it has been renovated, and my room was really modern and spacious with a supercomfortable king size bed and a huge t.v. At my arrival, they told me that I could use the indoor pool and spa and they highly suggested that I reserve a table if I would like to try their restaurant.
Talking about the restaurant, they are quoted 4 stars and with a reason. The view is amazing, and the menu is quite incredible. I advised my waiter Kéo that gave me an excellent service that I was doing the Dry February and he right away suggested me their non-alcoholic gin and tonic that tasted like the real deal.
As a appetizer I decided to try their onion soup, and it was well balanced and the size was generous. For the main course, I chose the bbq ribs with a root beer sauce. The portion was generous and it tasted like heaven. In my opinion the manoir is the best option if you plan to stay for the week end or few days.
Empire 47 is a non-profit organization that was founded in 2014 to promote a healthy lifestyle. You can do fat biking, mountain biking, hiking and snowshoeing. They have over 48 kilometers of trails that are groomed mechanically. It is like a ski center for fat bikes.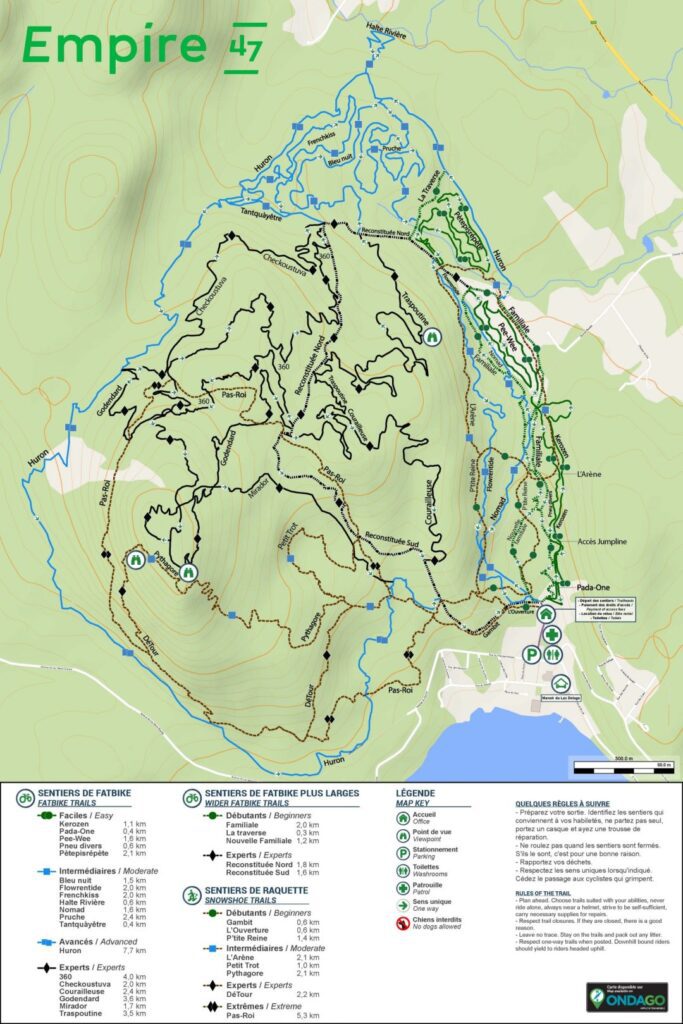 At my arrival, I was very well welcomed and got directed to the fat bike rental section. The staff has a special platform to squeeze the fat bike in place, so they can set the saddle height and the tire pressure to have a maximum pleasure versus the trail conditions. I was pretty surprised how on the ball they were pressure wise and this made sure I had the proper full experience. You can rent a Spherik Sf deore for 45.00$/4 hours.
For this article I decided to concentrate on the beginner and intermediate trails. The snow was really soft even tho the trails were awesomely groomed the 2 degrees did not help to keep them firm but I like this a lot and you push a little more. From the nouvelle familiale to the bleu nuit, I had a real pleasure discovering them all.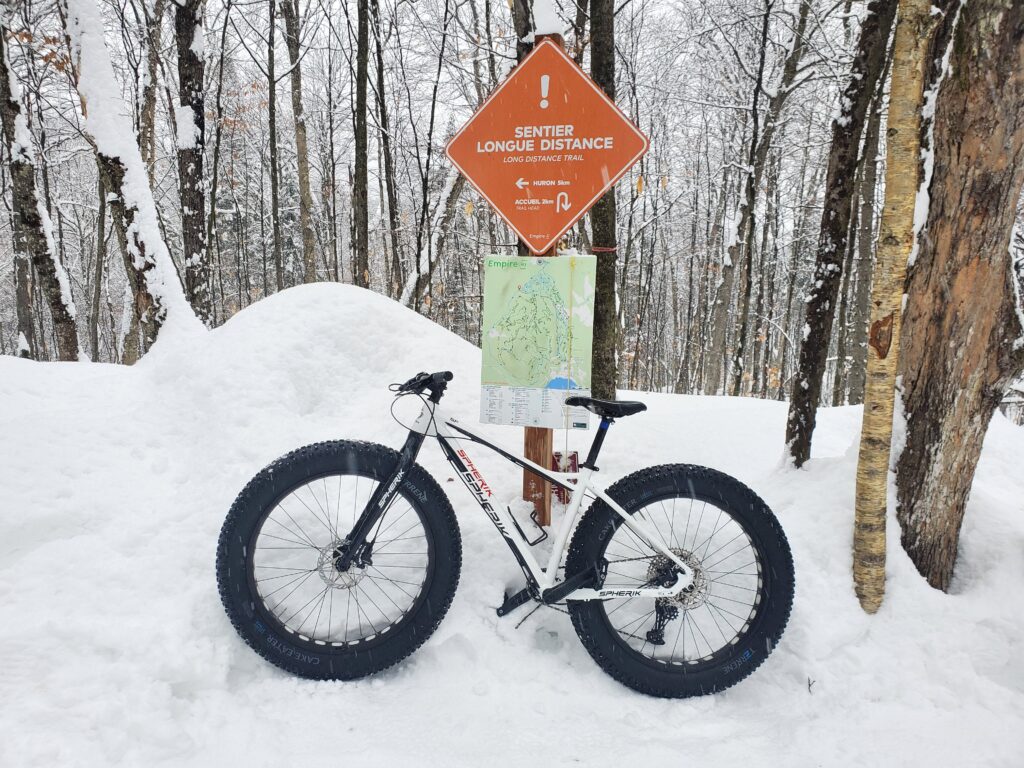 My favorite trail by far was the Huron that they consider advanced. It is a 7 km trail that has a good climb at the first half but you are going down after that and go around the mountain to finish at the reception of the center. With the snow that was falling, it was simply magical.
In conclusion
I could only stay one day since I needed to go back but in my opinion, a week end is a must to do the center completely and at a good pace. Your stay at Manoir du Lac Delage makes the experience even more awesome, and I understand now why people consider Empire 47 the fat bike kingdom in Québec. With my summer experience and my winter experience, both Manoir du Lac Delage and Empire 47 got the Allday recommended mention and sticker.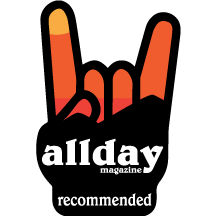 You can have more information about Empire 47 here:
You can have more information about Manoir du Lac Delage here: