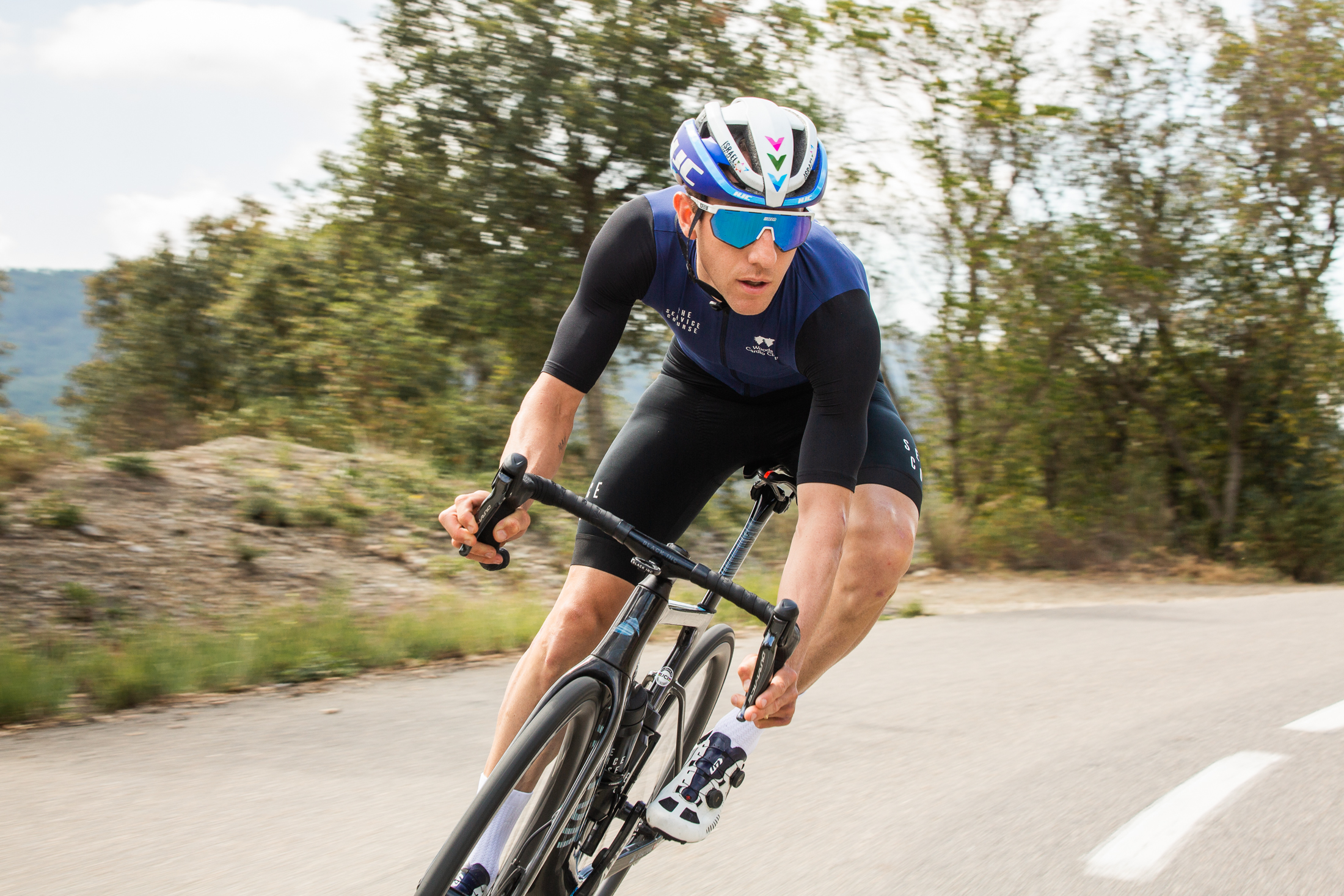 In collaboration with Mike Woods, Garneau developed a new limited edition shoe just in time for Tokyo.
Supporting young talent and fostering relationships is an unspoken tradition at Garneau. Rusty Woods became part of the Garneau family in 2013 as a member of the Garneau-Quebecor UCI Continental America racing team, and we were proud to see him graduate to the upper echelons of competition following his stint with us.
Today, we are super stoked to launch the new Rusty Woods Limited Edition Shoe, both in recognition of his phenomenal talent and as a memento of the time he spent with us. Featuring three (3) of Garneau's patented technologies, acclaimed as one of the best shoes of the year many times and winner of a Eurobike award, the Course Airlite XZ is the most comfortable shoe in the world and has proven it is able to get on the highest step of the podium as well as delivering the best climbing performances. Simple on the outside, its inside represents everything important to Mike's life. As a matter of fact, its insole artistic design was actually drawn by Mike.
Garneau is also preoccupied, just like Mike, about the environment, so reducing our carbon footprint is something really important for us, so much so that Garneau has committed itself to donate part of the proceeds from the sale of these shoes to offset the carbon footprint of its products. I am really excited about this launch. Not only are the shoes super cool, but Garneau has committed itself to making donations to offset the carbon footprint of their products, which aligns perfectly with my own personal convictions. On the more practical side, I wanted the idea behind the whole concept to be that once you purchase the shoes you become a part of the "Woods Cardio Club", which is committed to two (2) things: climate and cardio. With Garneau handling the climate aspect as far as donations are concerned, I have decided for my part, as a commitment to cardio, to make a donation to Hop On, an organization dedicating itself to get school-aged kids on bikes across Canada, for every pair of shoes sold.
– Mike Woods
Inspiration
When Garneau started talking to me about making a signature edition shoe, I was immediately excited by the project. I felt honored that they wanted to make a shoe with my input in mind, and I really wanted to do my best so that the shoe reflected both me and my style.

I am a big fan of simplicity. I like fashion, but the clothes and shoes that I wear are often simple and minimal in their design and color. Therefore, in working with Garneau, I pushed for the shoe to be as understated as possible. However, keeping the shoe minimally designed left its appearance without opportunity for it to really tell my story, defeating the purpose, really, of a signature edition shoe.

This is when it was suggested by the Garneau team that we keep the outside of the shoe looking clean and simple but make the insole wild. I was really intrigued by this idea as not only could I leave a mark on the actual shoe, but I felt like this would be an opportunity for the shoe to reflect all that goes on inside of me. After that meeting, I jumped on my iPad, and just started to doodle ideas. As I drew, I started to think that the insoles of the shoe should be just that, my doodles. Drawings of things that are important to me now, of things that were important to me in the past, of things that have made me what I am today. I tried to fill the insole with things, both big and small, that float through my head on my rides. The initials of my parents, the names of my wife and daughter, places that I have raced or lived in, or where I went to school, or the hockey team I cheer for, all of these things I drew. This is why I love these shoes; because I know a part of me lives inside of them.
— Mike Woods
The X-Comfort Zone
We've spent decades addressing power transfer and shoe weight, but the most common problem resulting in numbness and irritation is fit. Not only is shoe width a major problem, but foot volume expansion during any type of exercise has also been a neglected conversation, until now. The patented technology expands to accommodate the rider's foot and foot expansion.
The X-Comfort Zone is an expandable zone that stretches up to 5 mm to provide comfort and prevent numbness during long rides. In addition, the X-Comfort allows shoes to fit two different widths, from C to D, thanks to a ventilated elastomer-spandex insert. The X-Comfort Zone creates a dynamic, non-constrictive fit for the foot's natural toe splay, which improves power, reduces injuries, and creates unsurpassed comfort.
We recruited Mike "Rusty" Woods on my team, Garneau-Quebecor, based in Quebec back in 2013. At that time, he was not known in the world of cycling. He surprised me immediately and I believed in his talent from that moment forward. I had a crush on this athlete! My experience in cycling and my intuition were telling me that this cyclist would become a Champion one day. He is the type of rider I would have loved as a teammate when I was racing. His carisma, his strength, and his kindness impressed me and many others.
— Louis Garneau
Limited quantities
Photo credit:Tristan Cardew