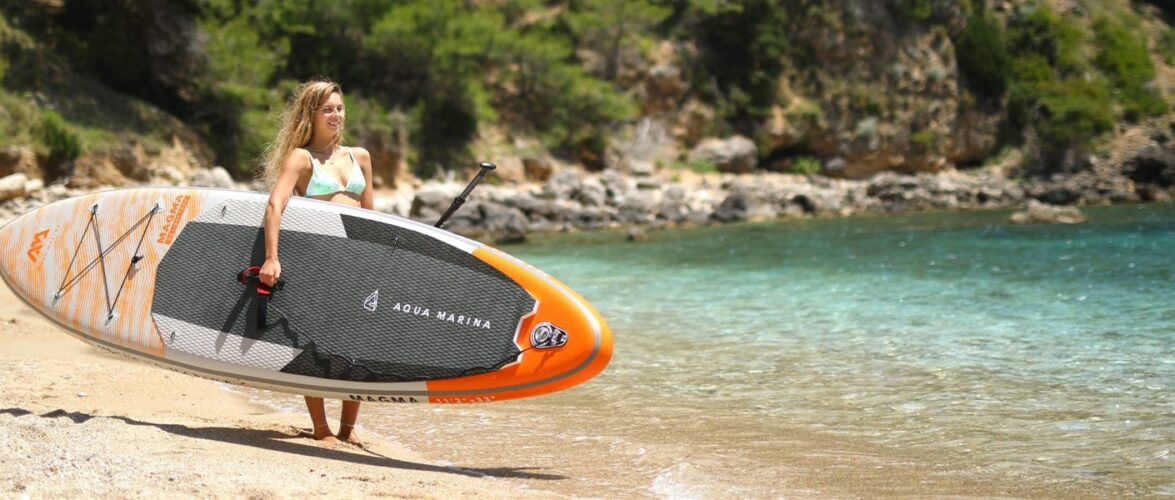 AquaMarina prides itself with its most popular all-around advanced board the MAGMA model, offering fantastic versatility and boasting unrivalled quality, innovation, and design.
The Magma 11'2'' X 33'' X 6' is aimed at heavier paddlers or families who will be paddling together on one board, however I used it alone, I am average in weight and height and I enjoyed it just the same.
Here are some features this board has to offer:
The deck footpad is so comfortable for longer rides, made of a diamond grooving crocodile skin, it ensures maximum grip thus releasing tension in the feet, something all paddlers are looking for.
The bungee system with its adjustable bungee cord stopper is a plus as you can adjust your amount of gear and be sure it will be held secure.
The extra stainless-steel D-rings on deck pad for an optional seat makes it a great option for versatility. I have not tried it with the seat, but it is an option to take into consideration if you like fishing for example.
The tail kick pad for critical bottom turns and cutbacks is a nice to have option for fun and skills practice.
The removable slide-in center fin with toolless installation is handy but the lack of side fins makes it a little unstable in choppy waters or boat wake.
Special mention to the weightless leash that is so comfortable to wear and the ergonomic pump handles, both features are the best I have seen.
The travel bag, although it has no wheels, is light and nice to wear like a backpack because it sits high on the shoulders as opposed to banging behind the legs.
When inflated to 15 PSI as recommended, the stiffness is not as incredible as they claim, I asked AquaMarina if I could go over 15 PSI and they did not recommend it. The board drags a bit because of its lack of stiffness however it will only be noticeable on long distances or up wind conditions.
The SUP tracking is surprising, with a good paddle technique it tracks quite straight and is agreeable to ride.
To be able to gain some speed a strong paddle stroke will be needed. Stick to downwind and down current to have a perfectly enjoyable day on the water.
The stability is absolutely a strong advantage for this board, do not be afraid to bring the kids and dog on board everyone will have their space and be able to move around without destabilizing you.
The Magma performs very well on a quiet lake, and that is the strong point of this board. It is a family, fun, friend, SUP, perfect for small rides, sunset, or picnic on the water. For the most advanced paddler however it is perfect for rivers and downstream outings, it will be a challenge to reach speed against wind and strong current but still enjoyable.
This all-around stand-up paddle board looks, good, feels good, is amazingly stable and provides a great deal of enjoyable time on the water and that is what the goal is!
You can have more information about Aqua Marina here: