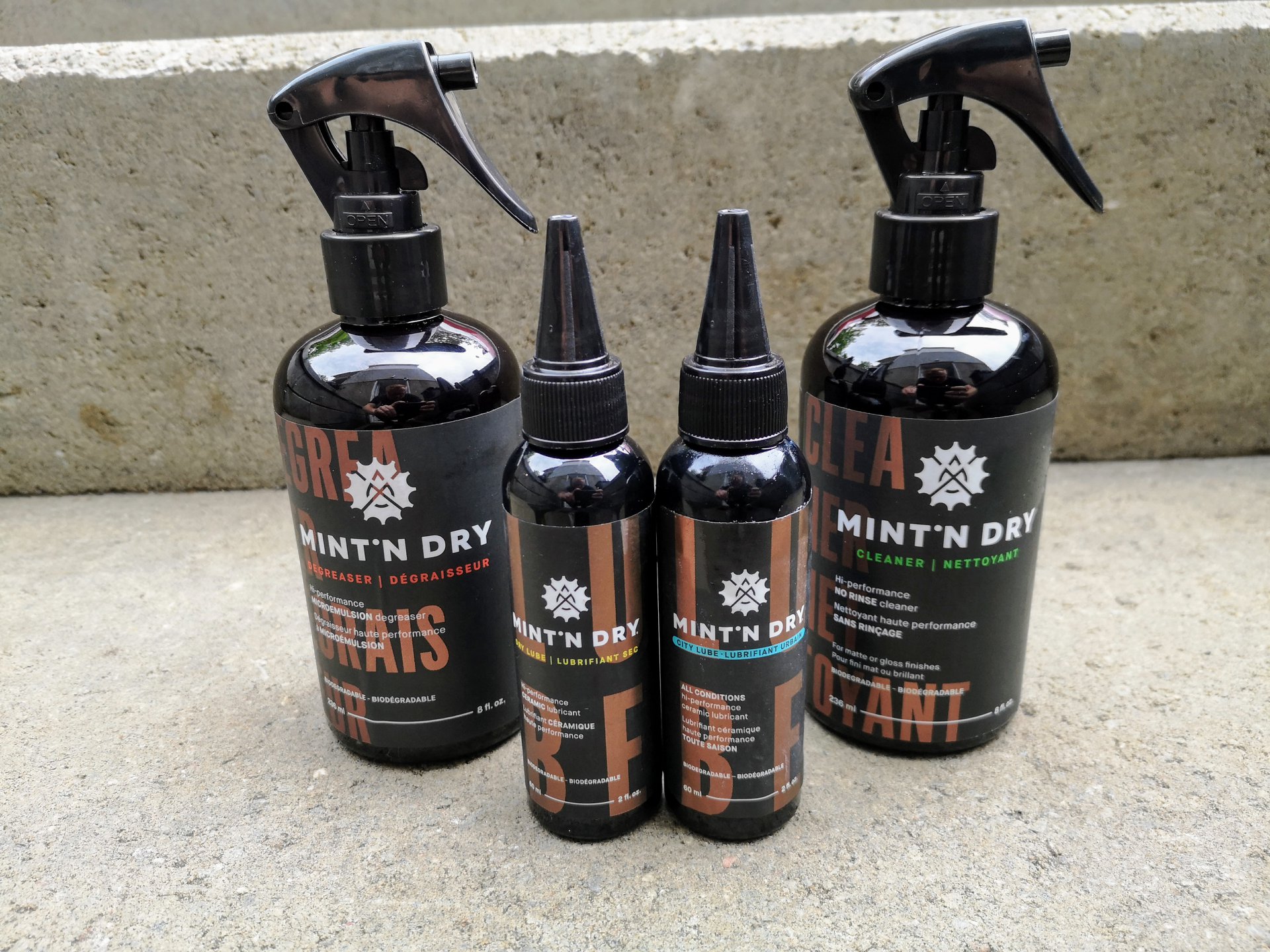 I am always on the lookout for new brands in biking and even more when it's Canadian. When I saw that a company made 100 % biodegradable lubrication and cleaning products for the bike in Quebec,Canada, I decided to contact them for more information. MINT'N DRY was nice to send me a complete kit of the products they make.
This one is recommended for road bike, as it is very dry. This in my opinion is a great advantage, because nothing sticks to the chain. Mint' n dry advised me that its life is about 100 km and after more than 150 km, my chain was still well-lubricated. For people who go long distances, I recommend bringing your little bottle with you.
This one is recommended in any season and in all conditions. For my part, I used it on mountain biking for over 3 weeks, in a sandy environment and was pleasantly surprised at the performance of it. The chain had no sand or dirt to build up after 4 or 5 hour days unlike other products I used before.
As it is very important to clean our chain before every use, so I took care to clean everything before each rides and the degreaser did not disappoint. He fights grease and dirt very well to leave a clean chain and cassette.
This product is a beautiful discovery for me! Some of us are nervous about washing our bikes with water and that's understandable. After beautiful days riding on gravel and in the mountains, I was able to clean the dust well without leaving traces or a "film" on the frame. I have a protective film on my bikes and the cleaner did the job when I didn't have mud on my frame. Interesting fact, the cleaner makes a pleasant smell of freshness!
Although there are several types of microfiber on the market, I only used this one during my tests and washed it 2 or 3 times. He performed like day one.
In conclusion
Often we are comfortable with the products we've always been buying and nervous to try others and I am the perfect example. However, it was a great discovery and I will continue to encourage them.Congratulations to MINT'N DRY for their beautiful products!