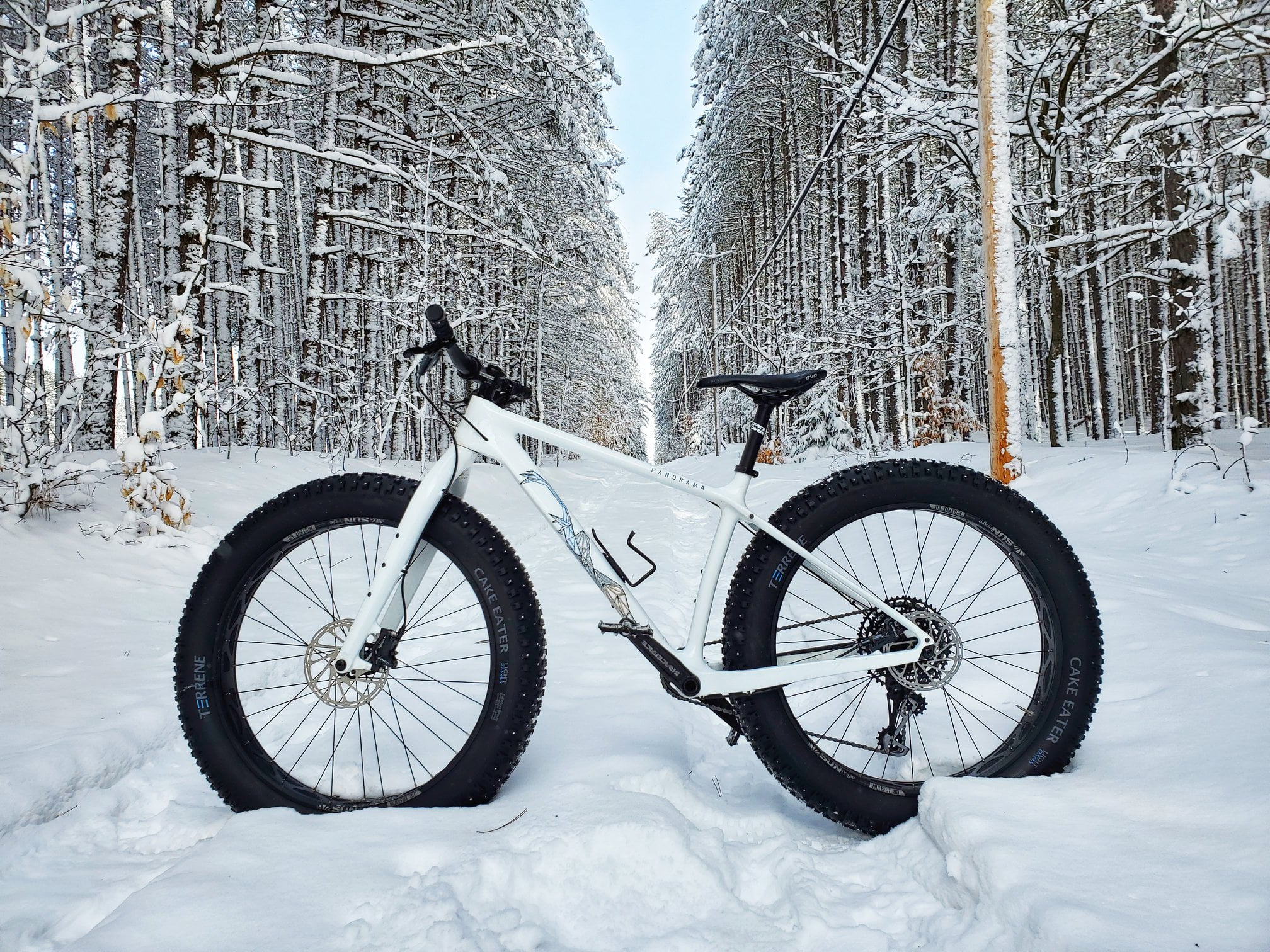 The first time I heard of Panorama Cycles was during my meeting with Jean-Philippe from Sur deux roues in Oka. Therefore, the intriguing drawing on mountain frame and geometry had captured my attention. That's when he put me in touch with them.
2 weeks later, I had in my possession the Chic-Chocs in question. My first impression was how the carbon bike is light and well built. The internal routing is a plus and the finish is impeccable.
My first day was in Tremblant and the conditions were good, a hard bottom with a soft surface.
As soon as I was in the saddle, I noticed the nervousness of the handlebar and how I was close to this one. After the first pedal shots, I immediately felt the lightness of the bike and how the tubeless tires help to speed up. I felt like I was riding on a cloud and this feeling isn't nasty. Regarding the conditions, the snow was not completely harsher so I was anticipated the climb. The Terrene Cake eater 27.5 X 4.5 did a great job both on the climb and down. Flanged with the carbon frame and the wonderful geometry, it was a very encouraging first day.
My second day was at Sentiers de l'Abbaye d'Oka where people on fat bikes groups said it was perfection and they weren't wrong! The groomed slopes announced a more than interesting day.
This bike is a true formula 1 when conditions allows. The SRAM MTB Gx 1 X 12 was fluid in changing speeds when needed. The climb was simply amazing and the bike control on the descent was sublime. The accuracy of the Sram Level T brake modulation makes them the ultimate weapon for this bike.However, I would have liked to try a dropper post that unfortunately is not included.
In the end, is for $ 3400 we have for our money? Absolutely! At the level of quality / price, they have a slight lead on Salsa Cycles Beargrease. In the end, it will be the choice of the buyer and the availability of them in the bike store near him.
I'm giving a score of 8.5/10 for the Panorama Chic-Chocs.