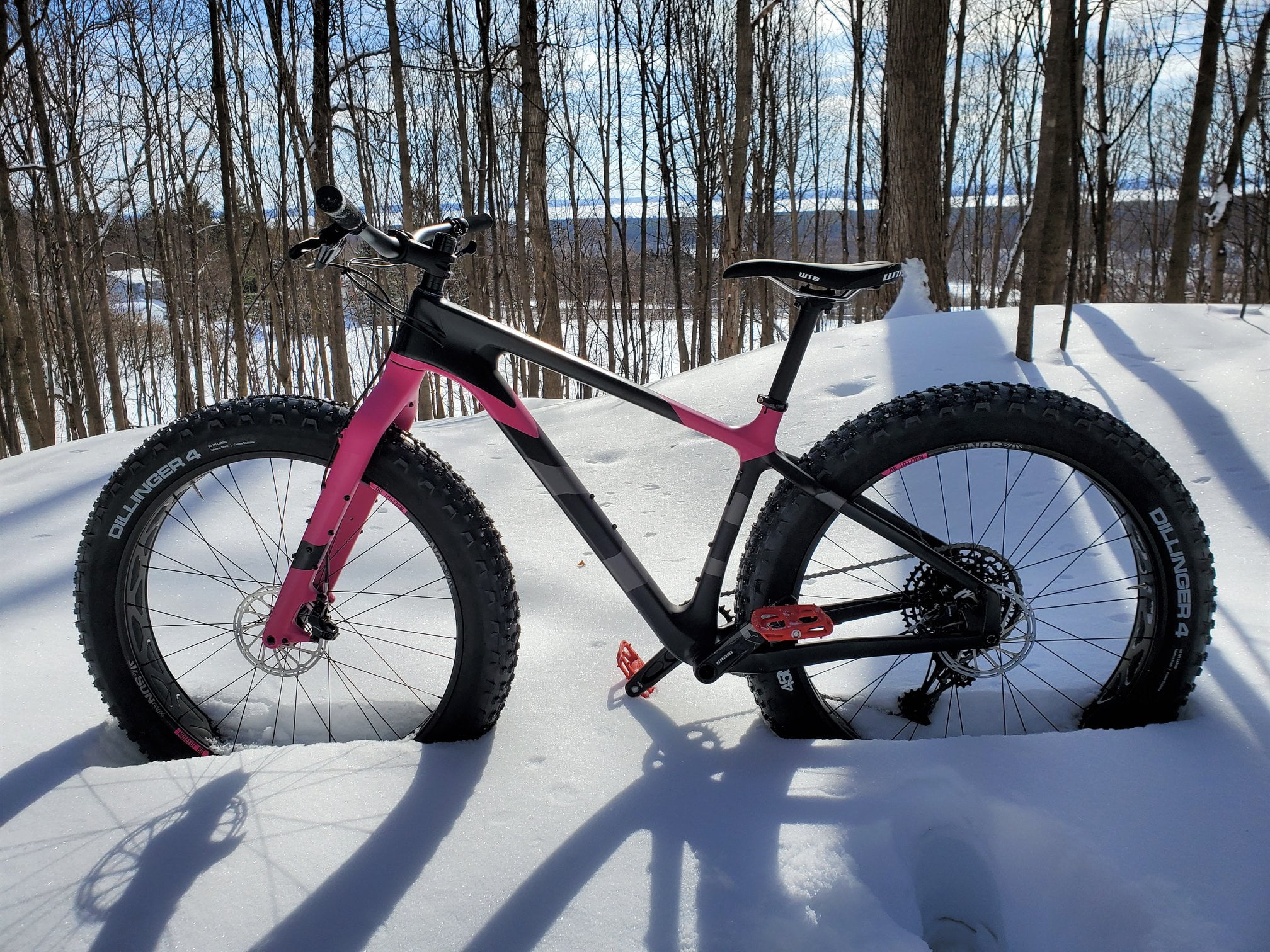 The first time I heard about the fat bikes Salsa Cycles was from a bike store in the Laurentians. At first glance I thought they were very interesting but I had very little information about them.
I thought from the start that the geometry of their fat bikes looked like a mountain bike but little more "fat". In my opinion, there's nothing better to have a good position to climb or to go down the mountains and this joins my style.You'll say yes but Jonathan there's only one way to know it's by trying it! You're right.
I had the opportunity to try the Beargrease at Sentiers de l'Abbaye d'Oka and from the start he didn't disappoint. This carbon fiber bike brings lightness that does good in a sector where weight is an important factor when we want to raise our level. Salsa defined this bike as a racing fat bike and it was in this perspective that it was designed from the start and they nailed it!
From the first spin I was surprised at geometry and position. My eye was right, it's really based on a mountain bike. As soon as the first pedal kicks I saw a remarkable difference with an aluminum bike. With a heavier bike, pedal kicks have less impact than on a carbon bike. We really feel like we have fast speeding. The bike is very accurate going up and down so I could really place the bike the way I wanted when needed in tight trails.
Coupled with 12 speed SRAM NX Eagle derailleur does the job very well. The gear lever has impeccable speed of execution. Change is happening at the exact moment we need it. Being used to Shimano-MTB, I had to get used to how to change speeds as it's not quite the same.
At the wheel level we are talking about a 27.5 "size with 45NRTH Dillinger 4 tires of 3.8″. I have to admit this is the second bike I try with this width and I love the manoeuvrability of these. They are nervous and do the job nothing more. Is it because of the test conditions? Maybe.
The Sram brakes didn't disappoint either. Being very difficult in lever modulation I have to admit that I was very impressed. They are very "thight" and this is exactly what I'm looking for for brakes since I never get my brakes but I press slightly when necessary.
In conclusion, is this fat bike perfect? To have tried a few, I have to admit it will be difficult to get to something similar without wanting to copy it in some way. Beware, his price is not for all scholarships (+- $ 4000).For the fans of the "dropper seatpost"… he doesn't come with it.
I'm giving a score of 8/10 for the Salsa Beargrease Nx Eagle.