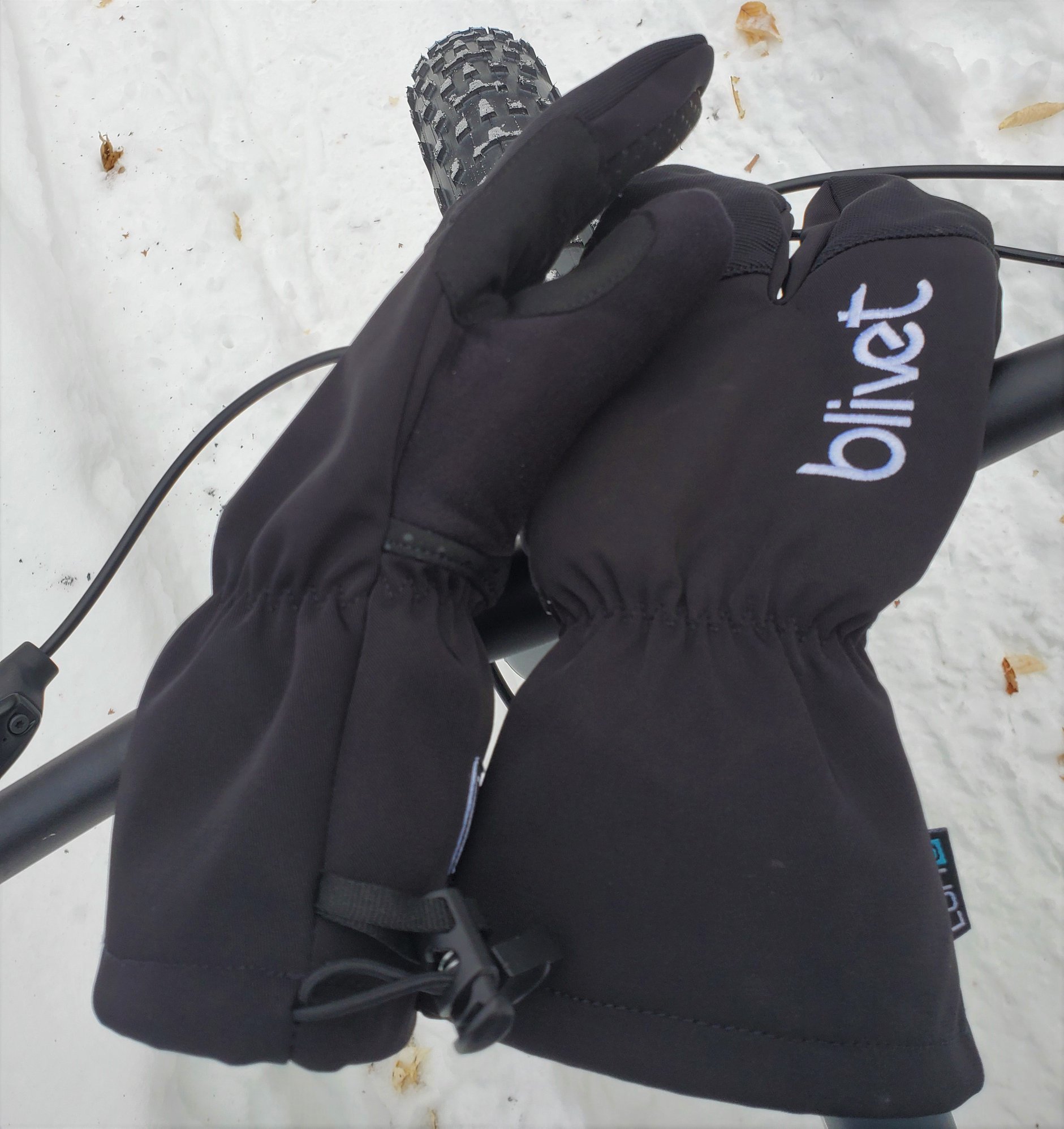 The first time I heard about Blivet Sports was at Bosk Vélo Café in Quebec City. The intriguing packaging allowed 3 pairs of gloves (2 liners + shell) and the name sounded very European. It didn't take more to ask the employee what Blivet was. She explained to me that it was a Quebec company that made products for fat bike. Having a new pair of gloves, I left the whole thing aside and many know the rest of my adventures…. With gloves!
I contacted Patrick from Blivet and we talked about his business. He explained to me the principle of high intensity and low speed in fat bike. Patrick was so convinced of his product that he challenged me to try it and be disappointed. It didn't take more to accept the challenge!
My first day of trial was during the Salsa Cycles demo and the temperature was about-15. At first sight, the construction of the glove is impeccable! We quickly see the attention to details and the quality of materials. We feel like we're seeing a bike glove… for the winter!
During my meeting with Patrick, he explained to me to put on the thicker liners (300) to start and change for the least thick on the way (200). From the very first few minutes I loved the slim feeling of the glove and the fact that I could feel my handlebar in my hands. In addition, the configuration of lobster clip gloves leads to a manoeuvrability of fingers to brake or change speeds while keeping them warm! After 15 minutes I moved to lining 200 and was able to complete over 1:30 fat bike without getting cold and even a little hot. I later stayed at the Salsa booth for almost 2 hours with lining 200 only without freezing fingers. EUREKA! However, you shouldn't scream that this was mission accomplished because it was just a test day….
The Lofi 3 test continued for more than 2 weeks on warmer or even more humid days. The observation was the same.. I didn't freeze fingers… At all!
However, needing my cell phone to create content, I would have needed to have the end of the index of the liners compatible with smart phone screens. This little point was brought to Blivet.
For a retail price of only 99$ I have to admit that this is a remarkable product and totally adapted for fat bike… By adding that it's a Quebec company.
I'm giving a score of 8/10 for the Lofi 3 of Blivet.