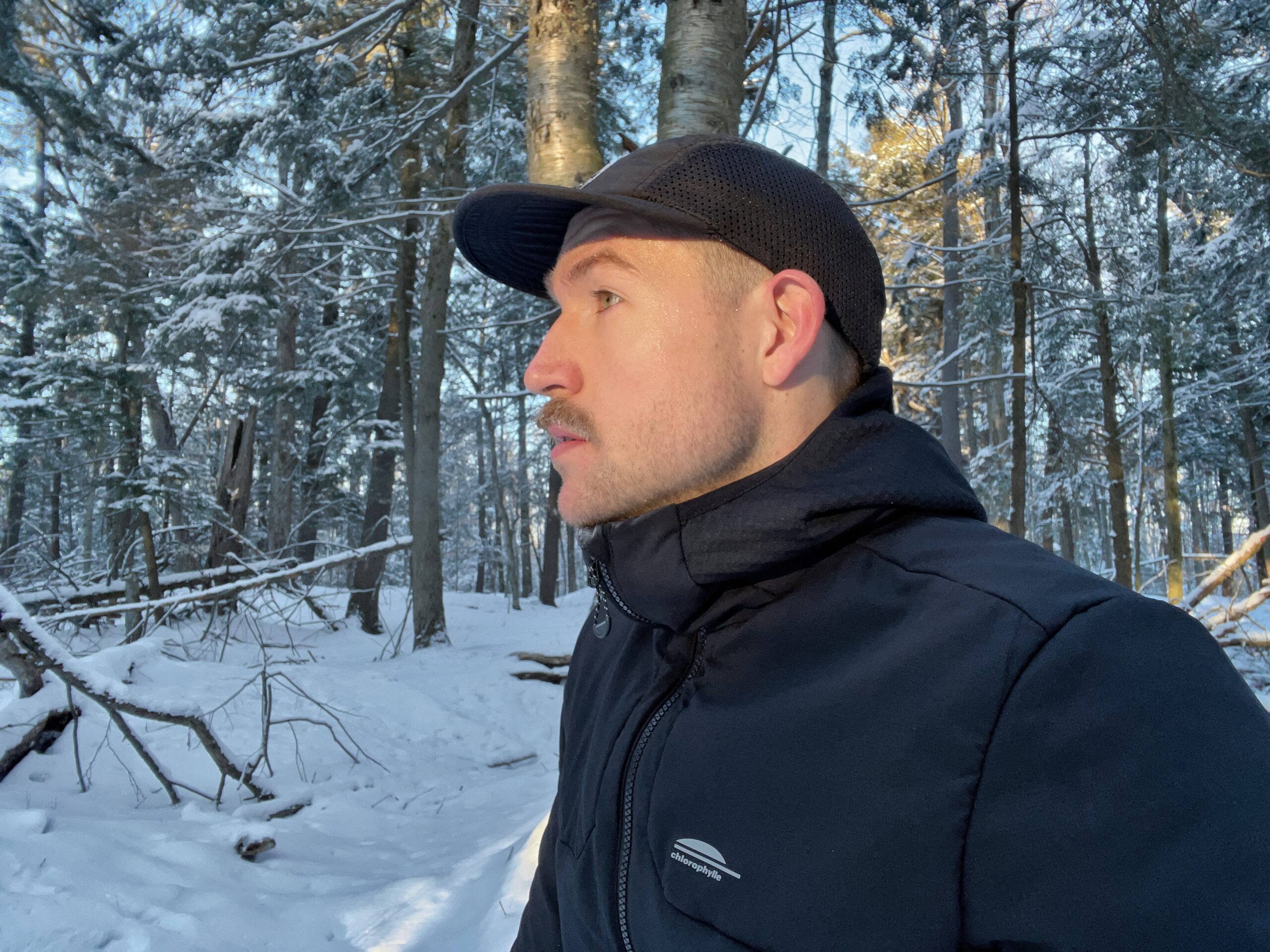 This season, Chlorophylle released a new technical duo of jacket and pants designed for intense physical activities during winter. As soon as I opened the package, my impressions were very positive. We can see that all the details have been thought through. I didn't know much about Chlorophylle, but I learned that this Quebec brand has been designing technical performance clothing since the very beginning and, with time, expanded its niche for a wider audience. Their products have no complexes next to other popular brands. I've tested their jacket and pants for about 100 km of running in conditions ranging from -5 to -20 °C (23 to -4 °F). Here are my thoughts:
Montserrat jacket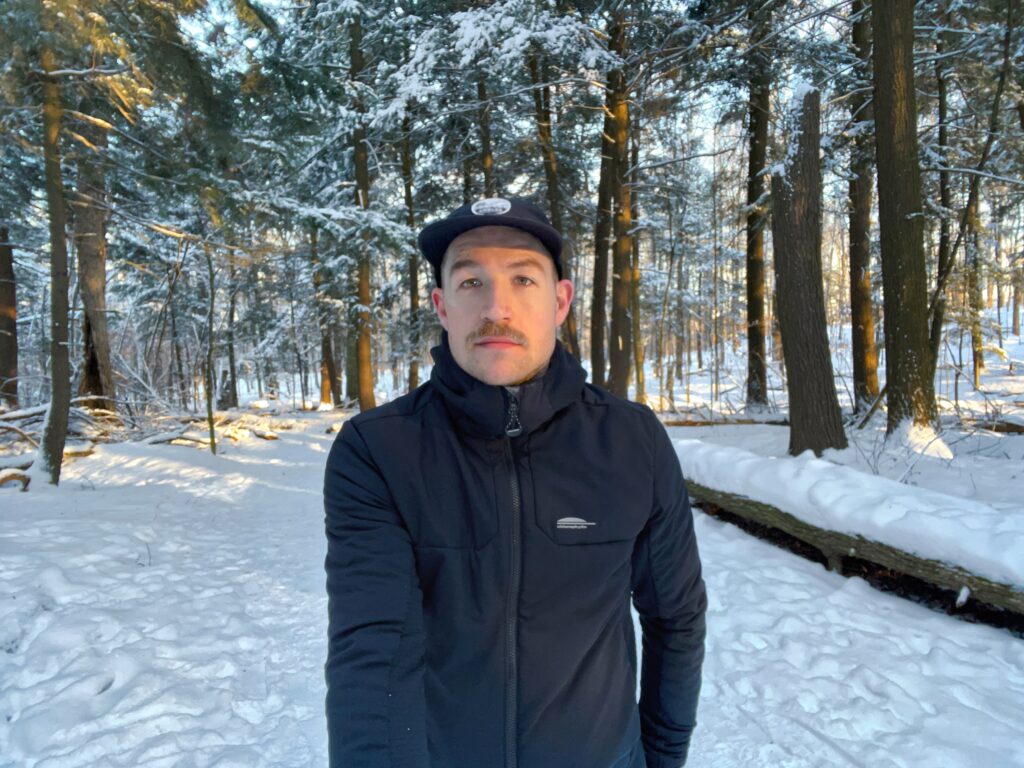 The Montserrat jacket (black, medium) is a technical jacket designed to offer both good wind protection and good moisture management in cold weather. The jacket combines recycled polyester with a DWR water-repellent finish and lightweight Primaloft Gold® insulation on the front (up to the chin to protect the neck), on the back and on top of the arms. The sides and underarms are made of breathable Polartec® inserts to properly evacuate the excess heat and sweat. Also, you will find large pockets with zipper on each side. However, there is no hidden pockets for keys or small objects (it would have been a nice extra). While this is mostly what I would expect for that kind of jacket, some extras make it stand out for me. First, I always like to have thumbholes since it allows the sleeves to stay in place when I put on an extra layer (e.g., hardshell). If you don't like it, the thumbholes are very discreet. Second, the jacket has a Polartec® insert hood with an elastic contour that keeps it firmly in place and protects the neck and sides of the head. It's like having a beanie and neck warmer built into your jacket. It's easier to put on and take off the hood than to dig in your pockets for a hat. Third, the zippers are equipped with a cord that allows easy handling even with large gloves or mitts. Currently, it's my number one choice jacket for running when it's between -10 to -20 °C. When it's warmer, I find that the insulation is too warm. When it's between -15 to -20 °C (and depending on the wind), I wear a baselayer underneath (like the Merino 250 baselayer by Smartwool), because the breathable inserts provide very little protection from the wind and cold. I couldn't try it at -25 or -30 °C, but I think it would be a good insulating layer under a hardshell and with a good baselayer.
Montserrat pants
The Montserrat pants in (black, medium) offer a similar design to the jacket: recycled polyester with DWR and Primaloft Gold® insulation on the front and behind the thighs as well as breathable Polartec power grids on the sides and below the knee. The waist is minimalist with a simple elastic that holds the pants well and two front pockets with high-quality Velcro. The only thing I don't like are the large openings at the ankles. I guess this is for big boots, but I would have preferred a more fitted and elastic bottom like many cross-country ski pants. While the fit of the jacket was perfect for me, I would have preferred a shorter inseam for the pants. But I must admit, this is a complaint I have for many pants I try. Similar to the jacket, the breathable inserts provide little protection against wind in cold weather (this is particularly noticeable on the front of the lower legs). While this was not an issue for me with the jacket because it allowed good ventilation, it's a downside for the pants as it limits their versatility. I easily solved this problem by adding a baselayer underneath, but I usually don't double up my pants when I run.
In conclusion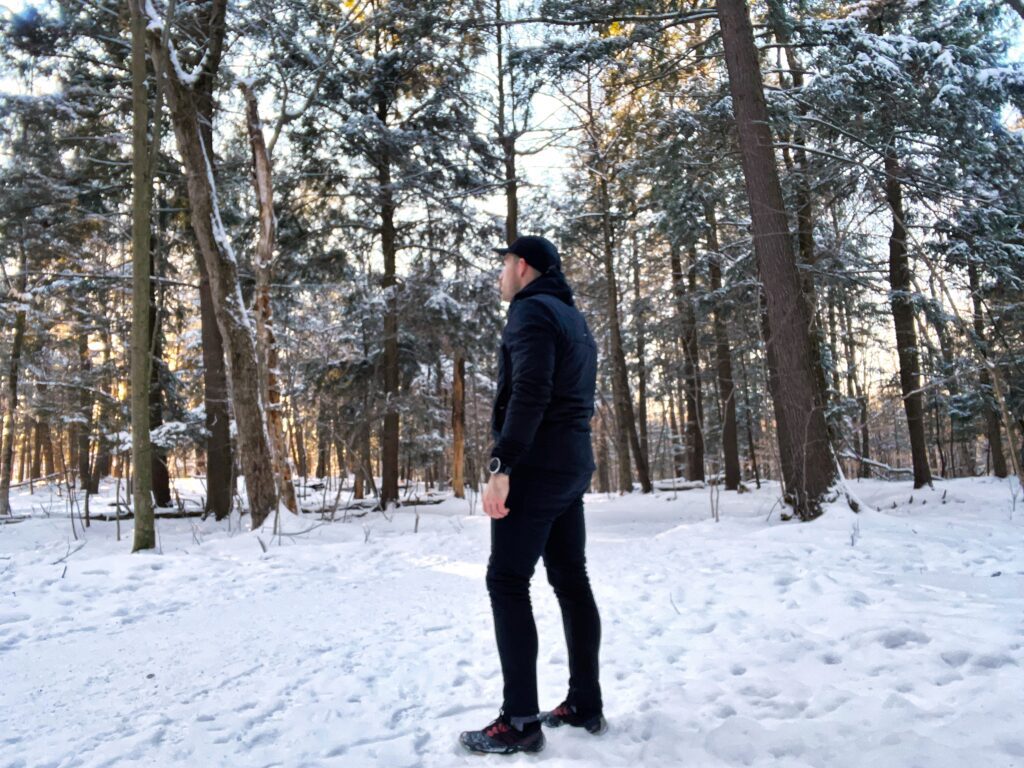 Overall, the Montserrat jacket and pants offer a great deal for intense or sustained outdoor activities during the winter. The jacket is one of my favorites because of its versatility, its strategic insulation and the integration of a hood that protects the neck. I still enjoyed the pants, but my use of them will be more focused since I find them less versatile. They can both be used alone or in a multilayer system with a baselayer and/or a hardshell. The cost is similar to other technical jackets and pants (230$ CAD for the jacket and 160$ CAD for the pants), and I think they represent a wise investment for people who like to push the machine and who generate a lot of heat and sweat.
You can have more information about Chlorophylle here: