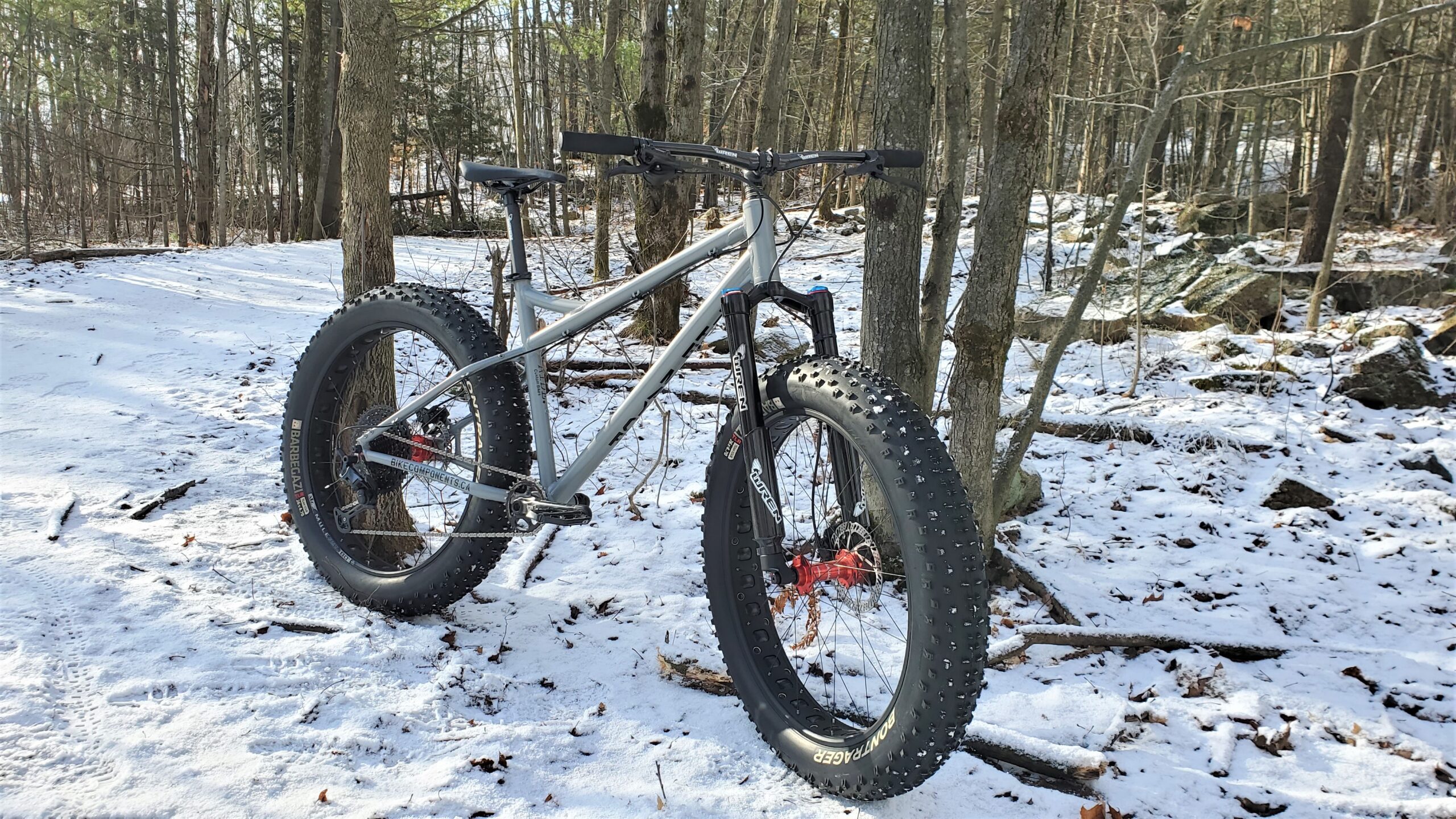 This project is on due to the fat bike shortage and the idea of doing something different and really having a fat bike to my liking and up to date at the component level.
The project was to demonstrate that if we like a frame for its geometry and/or sentimental value, but the components are a bit outdated and you want to update it, it's possible. Is this economical? No, no, no.So I started thinking about what I'd like on this fat bike: 12 speeds, suspension fork, new color and 4 piston brakes. Why 4 pistons? Because it's not necessary but I meant I had 4 piston brakes on my fat bike.
The coin hunting was about to start quickly, because it's not always easy to find everything we need and even more so in a pandemic time!Found a first generation RSD Bikes The Mayor frame and had heard great feedback about this company. Um Jonathan… The video you presented to us was with a Moose frame. We will return with this framework in a next article. Who said a bike project is relaxing? Absolutely no one!The frame in question was weather damaged and I decided to contact the bike painting master: Insayne Kustoms. I wanted a fighter plane style look, and I always loved the 'Nardo gray' color from Bmw so it took no more to paint the bike this color with powder coating.
I later reached out to the people at Wren we were looking for a way to work together and offered me the carbon fiber handlebar, ultra light aluminum gallows, carbon saddle pad and in collaboration with Moose bicycle, the suspension fork.
At the brake level, I opted for the BL-MT401 and BR-MT420 combo which are 4-piston brakes, but more entry-level at Shimano. Why this model in particular? Because we've heard little about it and that according to my reading of this product, is a great value for money. At the record level, I opted for 160 mm. They arrived in record time at home thanks to Bike components.ca.
For the crank, as you know in fat bike, the choice is quite limited and I found a 175 mm Race Face Turbine pedal which includes a 28 tooth Blackspire chainring. I installed the Race face pedal case too.
At the derailleur level, I chose a 12-speed SLX as well as a Sunrace CS-MZ501 1151T cassette.
For wheels, as in the new market, it's very hard to find, I came across a wheel kit with Hope hubs and Mulefut 80 rims that was spotless. They were in my possession after a return trip Sainte-Adèle to Québec CityLast year I had the chance to try the Barbergazi tires and loved them. Found a 26 x 4.70 set that was good as new so jumped on the occasion to equip my fat bike.
With regard to grips, I have chosen to try the Blivet ones, their construction, are not cold conductive. It was a great opportunity for me to try it out and see if it was true.
The assembly of everything was done by Dominic Chapleau from Ride Custom Bikes who my liver works like a monk with incredible detail.Jonathan, you talk about the technical aspect of your bike, but what about the test of it?To keep the neutral aspect of this, I'll ask an independent person to test and review it.Thank you to my partners without whom this would not have been possible:
Ride custom bikes Dominic Chapleau