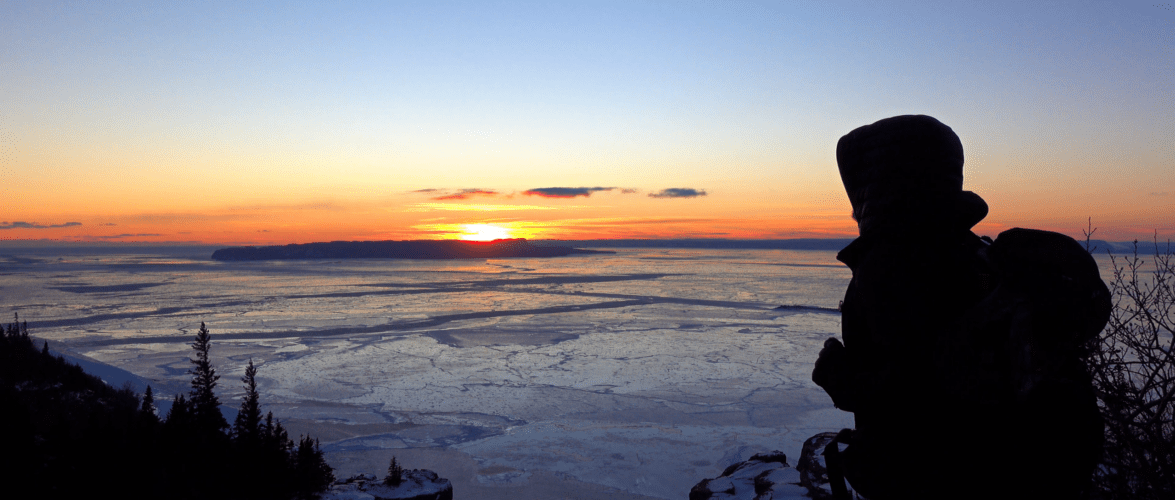 We've all had the call of adventure, hauting us and making us dream whenever we are not discovering new places.

So here I am with my backpack, grabing my girlfriend on the way, some coffee as well, ready for 1650km of driving. The destination is Thunder Bay, just west of Lake Superior. Two days later, after a night in the car and a second one in a local hotel, my morning alarm rang: time to set reach Sleeping Giant provincial park. (Fun fact: the sun rises at 8:30 in that region during the winter)

My girlfriend and I were ready to get going on Kabeyun trail towards our first stop: the Sea Lion lookout. Unfortunately the day was cloudy at first, but thankfully the sun showed up when we reached Sea Lion. That's when I thought, the sunset would be terrific at Top of the Giant. Spoiler alert: it really was.
After that section, I continued alone, because I wanted to keep going to witness and film the sunset on one of the biggest lakes of the world.

On the way, you can admire Tee Harbour, with a breathtaking view on the blue waters of the lake (I strongly suggest cleats if you wander close to the water, as the lakeshore is completely iced due to the waves).
After the beaches, I kept going towards Top of the Giant, also known as The Gorge. Snowshoes on, I opened the path for 3.3km of ascent (that region is rarely visited during the winter despite its magnificence). I would press in all the way to the ankles, walk, walk, keep walking, then all the way to the knees. Everytime I'd reach an area out in the open, the wind would attack me wildly.

Once I reached The Gorge, I added layers of clothing because I had one hour to wait until the sunset. While I was waiting, I explored different lookout spots, plunged waist deep in the snow at times because I took my snowshoes off, only thinking about camera angles for the coming spectacle.
5:00 pm: I start filming, as the setting sun's colours embrace the ice that slowly drifts on the enormous body of pure water. I realized once more how lucky we are to live here, with all this blue gold. The night was settling in, and the panorama was reflecting beatifully on the lake.

Finally, as I was leaving the summit, I thought about how grateful I am that I can experience moments like these, daydreaming.